Form I-134, Affidavit of Support, is required when wanting to sponsor a visa applicant (temporary visitor visa or K1/K2 visa) in order to demonstrate that they will not become a "public charge" to the government. There have been a few definition versions of what it means to be a public charge. During the Trump administration, the rule was interpreted more broadly in scope as a way to limit the eligibility for individuals to obtain green cards and visas. On March 9, 2021, the Department of Homeland Security stated they would not be using the Trump administration's public charge rule anymore. U.S. Citizenship and Immigration Services (USCIS) removed content related to it from their forms and now the public charge statute from the 1999 guiding principle is being used instead. USCIS has applied that version of the rule to all petitions/applications submitted or postmarked on or after Feb. 24, 2020.
I-134 is an essential form for fiance visas and even the smallest error can end up costing you denial or rejection. Our attorneys at VisaNation, take the outermost care of every client to ensure the best outcome for every case.
What is an I-134 Form used for?
Basically, the I-134 Form is an Affidavit of Support which demonstrates to the government that the visa applicant is being sponsored and will be financially supported by someone in the United States, eliminating the risk of them becoming a public charge (financial expense) to the U.S. government. Do not get this form confused with the I-864, Affidavit of Support because they are different. Form I-864 is required for most family-based immigration cases, adjustment of status cases and sometimes also employment-based cases. This form is not intended for nonimmigrant visas. There is also a higher income requirement with Form I-864 (125% of the poverty guidelines). If you can demonstrate that you are employed in your home country and/or financially independent you may not need to file Form I-134.
Complete Your Family Green Card Application Today
I-134 – Affidavit of Support
The immigrant's sponsor needs to file Form I-134 and along with it submit proof that they have the financial means to support the alien. To meet the financial requirement, the sponsor must meet 100% of the poverty guidelines for the household size.
Case example: Brooke is a U.S. citizen and she met her fiance Juan 3 years ago when she was vacationing in Brazil. She filed Form I-134 with the National Visa Center and submitted three years of past tax returns and evidence of her employment along with a letter from her employer saying she has worked there for five years and makes $50,000. Brooke meets the income requirement and with the evidence she provided her case was approved for the K1 visa during the interview.
What to Know About Sending USCIS Your Form
07/15/22 editions of Form I-485 will be rejected if they are postmarked on or after Dec. 23, 2022.
12/23/22 editions of Form I-485 will be rejected if they are postmarked on or before Dec. 22, 2022.
When making a public charge inadmissibility determination under this final rule, DHS will consider an applicant's "age; health; family status; assets, resources, and financial status; education and skills;" a sufficient Affidavit of Support Under Section 213A of the INA (when one is required); and prior or current receipt of: supplemental Security Income (SSI); cash assistance for income maintenance under Temporary Assistance for Needy Families (TANF); State, Tribal, territorial, or local cash benefit programs for income maintenance (often called "General Assistance"); or long-term institutionalization at government expense.
Types of Evidence to Provide
Evidence of financial ability can be submitted in the form of bank account statements, documentation from the sponsor's employer indicating how much they get paid, length of employment, etc. An income tax return can also be submitted as proof. To qualify, you must meet 100% of the Federal Poverty Guideline for your household size. To determine what your household size is, count any dependents, yourself, any relatives you live with and the immigrant you intend to sponsor.
Immigration can take a long time. With numerous forms and documents to submit, mistakes can be very costly and add extra wait time. VisaNation makes the entire process easy and fast! Create your application today!
Form I-134 Requirements
What are the requirements to be an I-134 sponsor? Here they are below:
Must be U.S. citizen or green card holder
Must be able to meet 100% of the Federal Poverty Guidelines income level relevant to your household size.
Must be willing to support financially the person who you will sponsor
i-134 require
These requirements may sound close to the requirements for Form I-864. The difference is that Form I-864 is completed by family members for green card applicants while Form I-134 is for applicants coming to the U.S. on a temporary visa.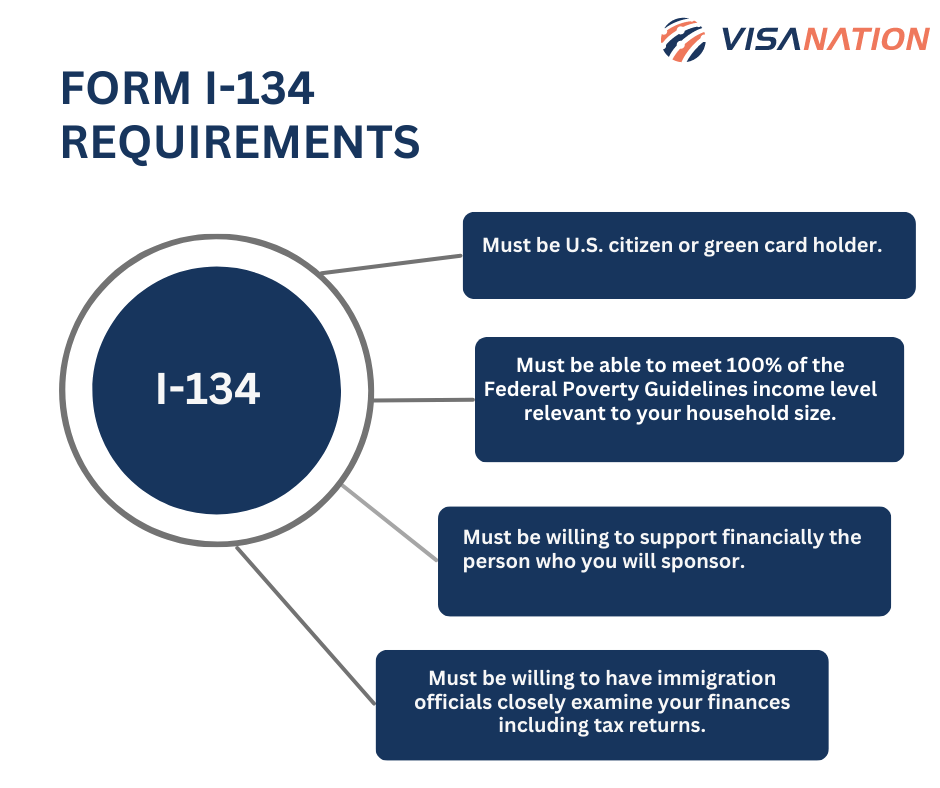 What Does Public Charge Mean?
The 1999 Field Guidance definition of the public charge rule is a person who is or has become or is likely to become "primarily dependent on the government for subsistence, as demonstrated by either (i) the receipt of public cash assistance for income maintenance or (ii) institutionalized for long-term care at government expense…USCIS is not considering an applicant's receipt of Medicaid (except for long-term institutionalization at the government's expense), public housing, or Supplemental Nutrition Assistance Program (SNAP) benefits as part of the public charge inadmissibility determination." That means that short-term or special purpose cash payments, as well as short-term institutionalization, are not considered public benefits. Under the rule, the only ones considered are "cash assistance for income maintenance" and "institutionalization for long-term care at government expense." As with any case, the totality of circumstances are still taken into account when making a determination of an individual's application.
Bring Your Family to the U.S.
Step-by-Step Instructions – I-134 Affidavit of Support
The I-134 form is an important factor when determining a sponsor's ability to support an immigrant and also whether the immigrant should be admitted to the United States on a visa or receive lawful permanent residency. For that reason, it is best to always complete immigration forms alongside the help of a qualified immigration attorney. All answers must be typed or printed legibly in black ink.
Part 1: Information About Your (the Sponsor)
The first section of the I-134 form is dedicated to basic information about you (the sponsor). Fill in your full name, mailing address, physical address, date of birth, city and country of birth, Alien Registration Number (if applicable), U.S. Social Security Number (if applicable), USCIS Online Account Number (if applicable), indicate if you are a U.S. citizen through naturalization or through parents/marriage. If you derived your U.S. citizenship from another method check box 11.c. If you have an Alien Registration number, fill it in on line 11.d. and if you are a lawfully admitted nonimmigrant, fill in your Form I-94, Arrival-Departure Record Number on line 11.e. In line 12, write your age in the first box and the dates since you have resided in the United States in the second box.
Part 2: Information About the Beneficiary
The second section is information about the immigrant beneficiary. Fill in their full name, date of birth, gender, Alien Registration number (if applicable), country of citizenship or nationality, marital status, physical address, beneficiary's spouse (accompanying or following to join them), beneficiary's children's names, and their dates of birth and genders (if applicable).
Take away the guesswork of correctly submitting I-134 and other immigration forms and documents. VisaNation is here to make the entire process easy and fast. Start your immigration journey today!
Part 3: Other Information About the Sponsor
The third section is regarding employment information. Indicate whether you are currently employed (and if so the area of work and name of employer or self-employed), list the current employer's street address, your annual income, balance of all savings and checking accounts in U.S.- based financial institutions, dollar value of other personal property and market value of stocks and bonds. If you have life insurance, fill in the sum of it on line 7.a. and the cash surrender value of it on line 7.b. If you own real estate, you need to complete the real estate section with the value of what you own, the dollar value of mortgages or other debts on line 8.b. and the location of where the real estate is located. If you, as the sponsor, have dependents you need to complete the Dependents' Information section. If you need additional space, that is provided in Part 7. Fill in the names, date of birth and whether the dependent is wholly dependent on your for support or only partially. Do this for all dependents you claim on a tax return.
Get Green Cards for Your Family with VisaNation
Part 4: Sponsor's Statement, Contact Information, Certification, and Signature
Before signing this section be sure to read the Penalties section of Form I-134. Complete the Sponsor's Statement by selecting box 1.a. if you can read and understand English, and understood every request in the affidavit. If you used an interpreter, check box 1.b. and make sure they are named in Part 5. If you used a preparer, check box 2 and name them in Part 6.  The next section is the sponsor's contact information. Fill in your daytime telephone number, mobile phone number and email address. In line 6.a. – 6.b. sign and date the form.
Part 5: Interpreter's Contact Information, Certification, and Signature
If you did not use an interpreter you can ignore this section. If you did, fill in their name, mailing address, contact information and they will need to sign and date in lines 7.a.- 7.b.
Part 6: Contact Information, Statement, Declaration, and Signature of the Person Preparing this Affidavit, if Other Than the Sponsor
If someone other than the sponsor prepared the document they need to list their full name, mailing address, contact information, sign and date this section.
Part 7: Additional Information
If you need extra space for any answers previously asked, use this section to do so. When you are finished completing everything, print or save a copy of the affidavit for your personal records.
*Important – If you are sponsoring more than one immigrant, you need to submit a separate Form I-134 for each foreign national. 
Qualifying Supporting Evidence
As previously mentioned as the sponsor you need to provide evidence that you meet the financial requirements to sponsor a foreign national. If you fail to provide evidence demonstrating this, the affidavit of support will be denied. The following documents can be submitted:
Bank account statement showing the date the account was opened, the total amount deposited over the past year and the current balance
Statements from your employer (on business stationery) showing the date and length of time you have been employed, salary and if the position is permanent or temporary
Self-employed individuals can provide a copy of their last filed income tax return or report of commercial rating concern
Documentation of bonds held with their serial numbers
Getting Family Green Cards is Easy and Simple with VisaNation
I-134 Affidavit of Support FAQs
Who does the public charge rule apply to?
The public charge inadmissibility rule is applied to individuals seeking admission to the United States or for lawful permanent residence with the exception of refugees, those seeking asylum, aliens escaping domestic violence, human trafficking, special immigrant juveniles or other humanitarian immigrants. You can check out the full list of exemptions from the public ground charge of inadmissibility.
Is there a fee to submit form I-134?
No, there is no fee for this form.
Where can I send my completed Form I-134?
This is based on the location of the visitor who is sponsored – check the USCIS website.
Can I use Form I-134 as a substitute for my personal financial information? 
No, it is not a substitue. Consular officers will ask for proof of ties to your home country and may inquire about your personal finances including your monthly salary and your ability to afford the trip to the U.S. if you are visiting on a B-1/B-2 visa.
What happens if the person I am sponsoring becomes a public charge?
Should the immigrant you are sponsoring become a public charge, the agency that is providing the assistance to the immigrant has the right to recover financial costs from you. Discuss this in-depth with your immigration attorney before agreeing to sponsor an immigrant.
What is I-134 form used for?
The Form I-134, Affidavit of Support is used for an individual residing in the U.S. to sponsor a visa applicant wishing to come to the U.S. The government needs to see that the sponsor has the financial means so that the foreign immigrant will not become a liability to the government.
Who needs to fill Form I-134?
The sponsor of an Affidavit of Support needs to be a U.S. citizen or resident (by law) and have enough financial resources to meet the requirements. They must also be willing to be financially responsible should the immigrant receive public benefit and the agency sues for the amount received.
What is the difference between Form I-134 and I-864?
Both are affidavits of support but they are distinctly different. Form I-134 is normally used for nonimmigrant visa cases to demonstrate that the visa applicant will not become a public charge and can obtain financial support while they are in the United States. The I-134 is not accepted for immigrant visa cases with the exception of Diversity Visa applicants who need to demonstrate that they will not be a public charge if they do not obtain a job offer or have the necessary financial resources. Form I-864 is required for most family-based immigration cases, adjustment of status cases and sometimes also employment-based cases to demonstrate that the immigrant will not become a public charge.
What is the minimum income to sponsor an immigrant?
The minimum required income 100% of the U.S. poverty level for your household size and your household size includes any dependents, yourself, any relatives you live with and the immigrant you intend to sponsor.
What if I do not meet the income requirement?
If you do not meet the income requirement of 100% of the U.S. poverty level for your household size then you have a few options. You can get a joint sponsor or use assets to make up the difference. A joint sponsor can be someone who lives in the U.S. and meets the financial requirement. They do not necessarily need to be a relative of the sponsor but they must be willing to be contractually obligated if the immigrant becomes a public charge. To count assets toward the income requirement they must be considered liquid (easily able to convert to cash in 12 months), should you include the value of a home or vehicle it cannot be the primary home/vehicle and you must calculate the true value for it (asset value minus debt for it).
Is it a requirement for the sponsor to be related to the applicant?
No, this is not a requirement. They can be unrelated as long as they are a green card holder or U.S. citizen. The requirement is that they have the minimum financial earnings to qualify.
How long is I-134 Affidavit of Support valid?
An Affidavit of Support is enforceable "until the family member or other individual either becomes a U.S. citizen, or is credited with 40 quarters of work (usually 10 years)."
What is Form I-134A?
This is slightly different in the sense that it is a promise to financially support a Ukrainian or their spouse/parent/child in line with the Uniting for Ukraine program, or a Cuban, Haitian, Nicaraguan or Venezuelan migrant and their immediate relatives.
Is Form I-134 required for a visitor visa?
An affidavit of support for tourist visa is not always recommended. In some instances Form I-134 can be used to supplement a case for a B-1/B-2 visitor visa, however, it may always not be beneficial to the case so be sure to discuss it with your immigration attorney. Finances play a significant role when applying for a tourist visa and the DS-160 application asks about who's footing the bill for your trip and how much you earn each month. When you chat with the consular officer during your visa interview, they often check out your financial details. They're trying to figure out if you can really afford your stay and if you're likely to head back to your home country after your visit, rather than sticking around in the US. According to Section 214(b) of the Immigration and Nationality Act, they start off assuming that anyone applying for a nonimmigrant visa actually plans to stick around in the US for good. It's up to you to show them that you're not planning to immigrate and that you genuinely intend to leave the US once your short stay is up.