The immigration process is delicate, regardless of the visa you choose. Due to the competitiveness of the H-1B visa, it's all the more important to make sure that you get it right the first time. If you have been wondering which H-1B visa documents USCIS requires for the filing, interview, and even Requests for Evidence, this page will serve as your reference point and will touch on H-1B cap-exempt applications. We'll also provide an H-1B dropbox document checklist to help you if you can get an interview waiver. Look out for our informative graphs to give you a better idea of what you should have with you before making your application.
H-1B Overview
To truly understand which documents USCIS requires for the H-1B visa, let's start with the basics. The H-1B is a nonimmigrant (temporary) visa for foreign nationals with a job offer in a specialty occupation. To qualify for this visa, you will need to prove a few things:
That you have a valid job offer from a bona fide U.S. employer
That you and your employer have a legitimate employer-employee relationship
That your position qualifies as a specialty occupation
Additionally, if you plan to submit a cap-exempt position, you must provide supplemental H-1B visa documents. Cap-exempt positions are those for institutes of higher education, nonprofit organizations affiliated with institutes of higher education, and governmental research organizations. The required documents to prove your cap-exempt situation vary from person to person, so ask your immigration attorney what you should provide.
Learn about different options for How to Immigrate to the USA.
H-1B Visa Documents List 2023
Because there are several different process stages for the H-1B, USCIS requires varying documents for each step. Below you will find what documents you need for the initial filing of your application, supplementary documents, and some ideas to increase your chances of approval.
H-1B Documents for Filing the Petition:
I-129 Petition
Approved Labor Condition Application
Supporting evidence, including

Copy of resume
Copy of job offer including job description
Proof of your degree
Other evidence that may be particular to your case
Required Supplementary Documentation for the H-1B Visa Process:
A copy of the passport
Proof of prior employment
Evidence of existing certifications or accomplishments
Letter from registrar to certify completion of educational credits
Copy of academic or technical degrees
A copy of the transcripts
Letter from the present employer
For the Best Chance of Approval:
Be sure all signed checks/money orders contain the correct amount
You must submit all documentation with the petition promptly.
Complete all sections within the Petition for a Nonimmigrant Worker (Form I-129).
The entire H-1B visa process mandates a specific H-1B package. Along with all the documentation, the package requires separate checks for the I-129. The standard fees include premium processing (if applicable), fraud fee, U.S. employer sponsorship, and public law. Staple the checks at the bottom right corner of the first page. The USCIS does have a preferred order of documentation.
If you are outside of the U.S. when you petition for your H-1B and not under any other nonimmigrant status, you may need a consular interview before entering the country. This means that you need to make an appointment with the U.S. consulate or embassy in your home country and participate in the one-on-one interview with your consular officer.
Keep in mind that not everyone needs to go through the interview process. However, if you are required to have an interview, complete the DS-160 online nonimmigrant visa application and bring the receipt and the confirmation page along with you.
Documents Required for H-1B Stamping
This list is the minimum of important H-1B documents that you will need to submit to stamp your H-1B visa in 2023:
Appointment schedule letter
DS-160 barcode confirmation
Original H-1B visa approval notice (Form I-797)
Letter for the H-1B visa application provided by your employer
Form I-129
Payment stubs for at least the last three months
H classification supplement to form I-129
Request for working conditions for H-1B and H-1B1 non-immigrants
Monthly statements (last three months)
Supporting Documents for the H-1B Visa
Depending on your case, the embassy may require the following. However, it is best to bring them when going for your H-1B visa if possible:
A letter from your current employer giving you an extension of employment
Copy of your resume
Description of your sponsoring employer
Notification of H-1B approval from your former employer (if applicable)
Form I-797 A, B, or C
Educational Documents
Your academic credentials will also be required during the H-1B application process. So, bring the following documents to the H-1B visa interview:
Official transcripts from any universities or colleges you have attended
Diploma or official diploma certificates, or both
Original I-20 forms, if you have a U.S. degree
Official transcripts from any other certificates you might have received
If applicable, your OPT or EAD card
U.S. Government Documents
Depending on the period of your stay in the United States and your current status, bring the following documents if you have them:
W2 tax forms from at least two previous years
1040s tax returns
Driver's license
Client letter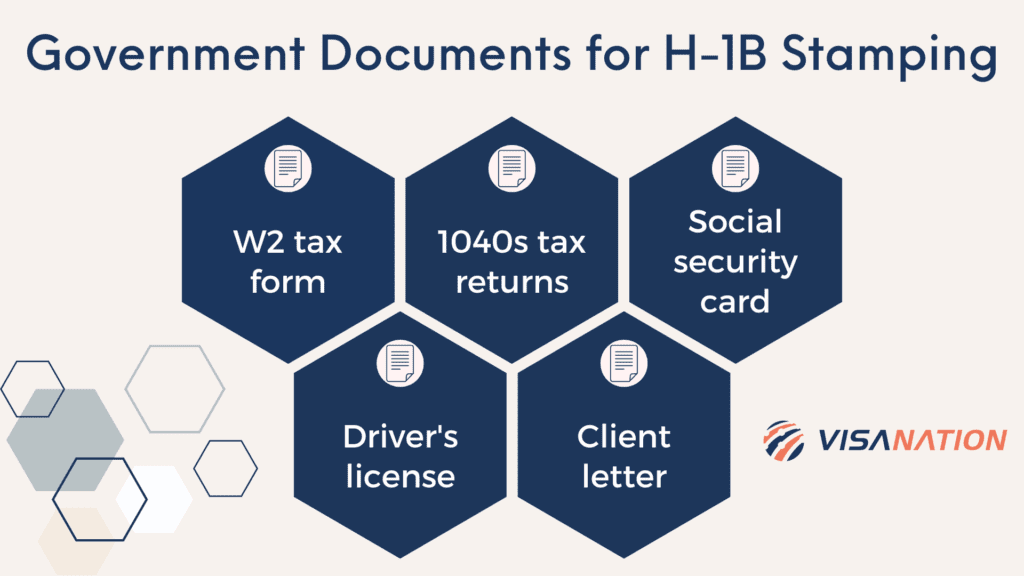 Personal Documents for H-1B Stamping
If you now live in the United States, bring a copy of your utility bills and rental agreement during your H-1B visa stamping. If you are not sure which documents to bring, contact an immigration lawyer or other immigration professional.
You need to have as many of these vital documents as possible, as this interview is crucial for your successful entry into the United States. The personal documents you need depend on your case; some candidates need more and others less, depending on each unique case.
Some issues may arise when employed by a company with fewer than 25 employees. If so, be prepared to answer more questions. USCIS is typically much more critical of these cases, as they can often lead to fraudulent situations.
Required Documents for H-1B Dependents
H-1B applicants will need to bring the following documents if they intend to apply on behalf of their spouse and dependent children:
The original notice of action form I-797 of the H-1B applicant
The original Form I-129 of the H-1B applicant
Photocopy of a valid visa of the principal applicant, if applying separately.
An original marriage certificate, joint bank accounts, complete wedding photo album, or any other document that can prove the marriage
Original birth certificates of dependent children
NOTE: Be sure to check with your U.S. consulate to determine what documents are needed, as the list may vary from country to country.
Also, because J-1 visa applications are adjudicated on a case-by-case basis, the required documents for applicants may vary. You can work with an immigration attorney if you have any doubts or concerns.
H-1B Dropbox Stamping
When going through the H-1B process, there are some criteria you can fulfill to qualify for what is often called "H-1B Dropbox Stamping." This allows applicants to get their H-1B visa stamped without attending an interview. To qualify, you need to meet the following:
H-1B dropbox stamping is only available for those getting an H-1B renewal. If you are getting a new visa, you will need to go through the normal interview process. So the first requirement is that you have already gone through H-1B stamping before and have the H-1B foil in your passport.
The H-1B visa you're renewing was stamped after January 1, 2008.
You are 14 years of age or older.
The H-1B you're renewing is either still valid or has expired for less than one year.
You haven't lost, stolen, destroyed, or had USCIS revoke your current H-1B visa.
You can't have designations such as "Clearance Received" or "Department Authorization" appended to your visa.
H-1B Dropbox Documents Checklist 2023
Here are the documents you'll need to complete H-1B dropbox stamping:
Your current valid passport
Copies of your approval notice for your I-797
A photo of yourself that meets the U.S. passport photo guidelines
Confirmation letter for your H-1B dropbox appointment
Confirmation page for your DS-160
Copy of your employment verification letter
You may also need to submit evidence of approved I-129
H-1B Documents for a Green Card in 2023
If you plan to use your H-1B visa to transition to lawful permanent resident status through a green card, there is another list of documents to consider.
Alternatively, if you go through consular processing, you will need the following documents:
Your passport and any expired passports
A photo of you
Comprehensive evidence of your green card eligibility
Your resume
You will also need to complete a DS-260 online immigrant visa application and print out the confirmation page and the receipt before attending your consular interview.
Applying for an H-1B Visa
The cap-subject H-1B application process consists of several different steps:
An employer in the United States must submit a registration on behalf of the immigrant worker during March.
If USCIS selects the registration in the lottery, the employer submits an H-1B petition to USCIS.
The employer pays all of the relevant application fees.
If the petition is approved, the employee can begin working as an H-1B employee on October 1.
USCIS can take a few weeks to a few months to process requests submitted for regular processing, while premium processing guarantees a response time of 15 business days.
Registrations for an H-1B visa will proceed to the H-1B lottery, where a computer-generated random process determines which registrations are selected based on the annual H-1B visa cap.
Learn all about our Predictions for H-1B Visa Lottery.
H-1B Visa Stamp Checklist
After receiving an Approval Notice (Form I-797) from USCIS, you must make an appointment at your local consulate or U.S. embassy to get a visa stamp on your passport.
To schedule an H-1B visa interview, you will need the following documents:
Photograph – Take a photo that meets specific standards set by USCIS. This photo should generally meet the following specifications: square, color, and be a minimum size of 600 x 600 pixels and a maximum size of 1200 x 1200 pixels in a JPEG file format with a file size of fewer than 240 kilobytes.
Complete the Form DS-160

Form DS-160 is an online form available on the United States Department of State (DOS) website. When filling out the application, you should have your passport number, travel plans, details of any recent trips to the United States within the past five years, information on existing and previous jobs, and education, along with a copy of your USCIS approval.
Pay the DS-160 visa fee of $160.

Schedule a visa interview.
Bring all the documents related to the visa stamping interview and get the H-1B visa stamp.
H-1B Visa Documents for Premium Processing
If you and your attorney agree that premium processing would benefit your H-1B situation, you will need to file an I-907 Request for Premium Processing and the requisite fee.
Do Not Submit Multiple Filings
As of March 19, 2008, U.S. employers can't file multiple or duplicate H-1B petitions for the same potential employee. USCIS administered the change to monitor the distribution of yearly H-1B Visas lawfully. The consequences of creating multiple petitions during the H-1B process are denial and rejection. Accordingly, the USCIS will reject the petition and not refund the submitted filing fees.
How VisaNation Law Group Can Help
The H-1B visa is the most sought-after U.S. nonimmigrant visa. But despite the stiff competition, presenting your documents the right way can make a difference. This is why you should work with an expert. The H-1B visa may seem like the most accessible visa, but there are still many requirements and steps to go through before you can start working. Making a mistake on just one of your H-1B visa documents can delay or even deny your visa. This will likely cause you and your employer both time and money.
To avoid this, the best thing to do is to have a qualified H-1B attorney handle your case. VisaNation Law Group specializes in employment-based immigration, particularly the H-1B visa. From start to finish, they take care of every step of the process and ensure that you are on the optimal path to working in the U.S.
You can fill out this form and schedule your consultation today.