For those seeking to live and work in the United States, the green card is the pinnacle of legal immigration status, offering a pathway to stability, opportunities, and the fulfillment of their American dreams. Of course, one of the main elements of this identification card is a photo of the cardholder. In this complete guide, we'll take an in-depth look at all the facets of the green card photo requirements in 2023. Abiding by the designated photo requirements is crucial for immigration purposes.
USCIS Photo Requirements
The U.S. Department of State recommends using a professional visa photo service to ensure your photo meets all the requirements.
Your green card photo must be in color. Below are the other specifications:
The photo should be sized such that the head measures between 1 inch and 1 3/8 inches (22 mm and 35 mm) or 50% and 69% of the image's total height from the bottom of the chin to the top of the head. For more detailed size requirements, please refer to the Photo Composition Template.
The photo must have been taken within the last 6 months, accurately representing your current appearance. It should be taken in front of a plain white or off-white background, with you directly facing the camera in a full-face view.
Make sure to maintain a neutral facial expression with both eyes open. Wear your everyday clothing in the photo, except for uniforms, unless it is religious attire worn daily.
Avoid wearing hats or head coverings that obscure the hair or hairline unless they are worn daily for religious purposes. Your entire face must be visible, and no shadows should be cast by the head covering.
Headphones, wireless hands-free devices, or similar items are not permitted in the photo.
Can I wear glasses?
As of November 1, 2016, eyeglasses are no longer allowed in new visa photos. However, if there are exceptional circumstances where the eyeglasses cannot be removed for medical reasons (such as recent ocular surgery), a medical statement signed by a healthcare professional must be provided. If eyeglasses are accepted for medical reasons:
The frames of the eyeglasses must not cover the eye(s).
There should be no glare on the eyeglasses that obscures the eye(s).
Shadows or refractions from the eyeglasses must not obscure the eye(s).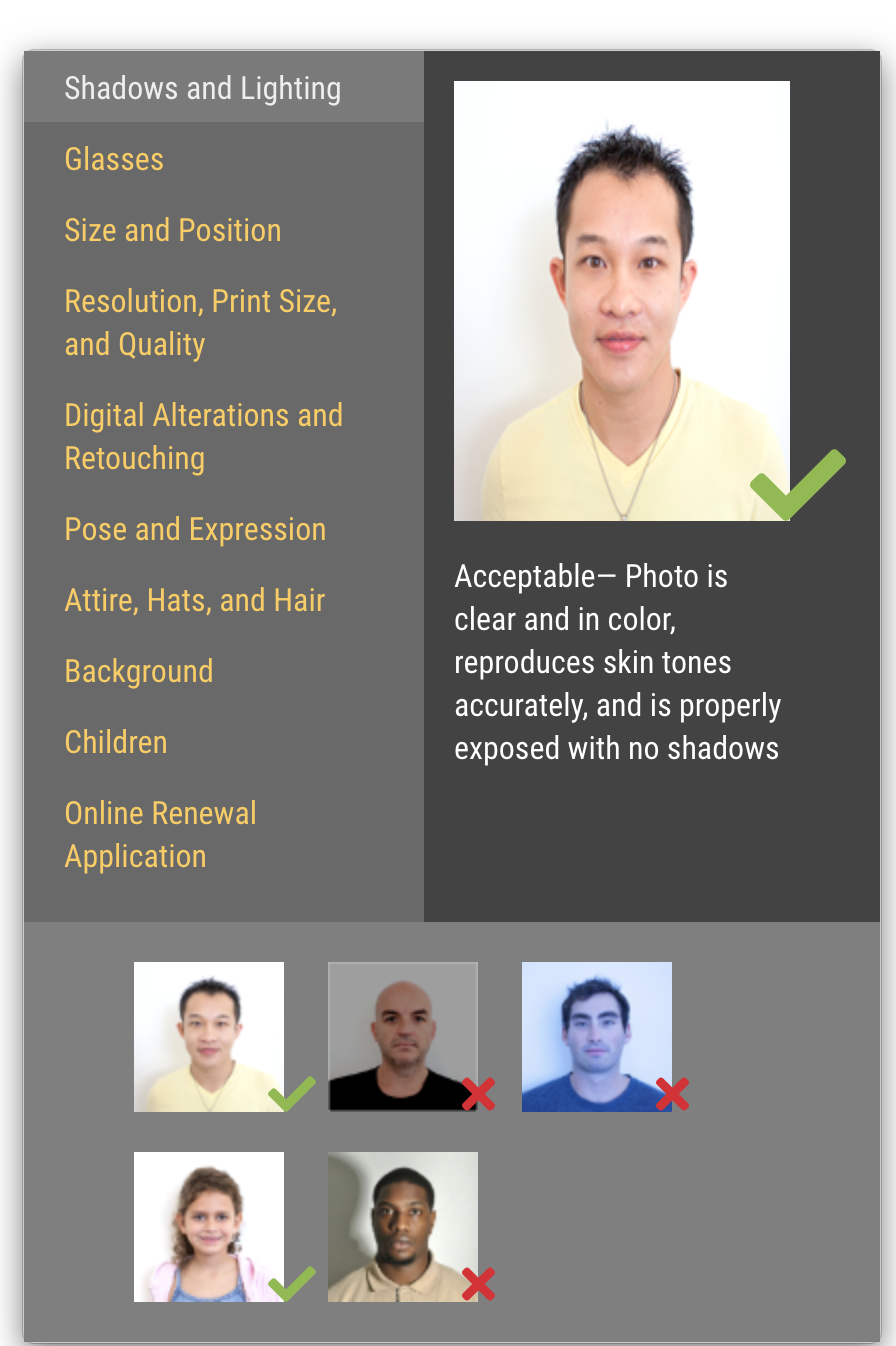 Crop Your Photo with This USCIS Photo Tool
USCIS has made it easier to adjust an existing photo you have to the designated specs.
Note: this tool is intended for cropping your photo only when you are applying in person or by mail. After you apply, a U.S. Department of State employee will review your photo and decide if we can accept your photo. If you are renewing your passport online, see Uploading a Digital Passport Photo.
Facial Expression
Be conscious to have a neutral facial expression and have your head not tilted too forward or back when taking your photo. That means not having a huge smile or grimace. 
Attire, Hats, Hair
You should not wear hats or head coverings that obscure the hair or hairline. The exception is if it is worn daily for religious purposes. Be sure your entire face must be visible, and no shadows should be cast by the head covering.
Shadows and Lighting
Make sure your photo is not too dark or too washed out. You can see in the example below the difference in lighting and shadows, which are acceptable and not acceptable.
Background
Be sure not to have objects present in the background of your green card photo. That means things like plants, wall coverings, etc.
Resolution, Quality
The image quality is just as important as your facial expression, background, and lighting. The image in the top left-hand corner is the highest resolution and is required by USCIS standards.
Children
How should your children be posed for a green card photo? See the images below for guidance.
Other Requirements for Immigrant Visas
Applicants using Form DS-260
If you are applying for an immigrant visa, using Form DS-260, you must provide two (2) identical photos at your immigrant visa interview. Your photos must be:
Printed on photo quality paper
2 x 2 inches (51 x 51 mm) in size
For participants in the Diversity Visa (DV) Program, please take note of the following requirements:
Digital Image Upload:

If you are applying for the DV Program online, you must upload a digital image as part of your entry.
The digital image must be in JPEG (.jpg) file format.
The file size should be equal to or less than 240 kB (kilobytes).
The image must have a square aspect ratio, meaning the height should be equal to the width.
The dimensions of the image should be 600×600 pixels.

Scanning an Existing Photo:

If you choose to scan an existing photo instead of uploading a digital image, please adhere to the following requirements.
The existing photo should measure 2 x 2 inches (51 x 51 mm).
It must be scanned at a resolution of 300 pixels per inch (12 pixels per millimeter).
Ensure that you fulfill these specifications when submitting your photo for the Diversity Visa Program.
Requirements for Diversity Visa Program Selectees
When attending the DV program interview, each applicant must bring two (2) identical photos. Please ensure that your photos meet the following specifications:
Print Quality:

Photos should be printed on high-quality photo paper.

Size:

The dimensions of each photo must be 2 x 2 inches (51 x 51 mm).
Taking Your Own Photo
While it is recommended to use a professional visa photo service to ensure compliance with all requirements, you may choose to take the photo yourself. However, please note the following guidelines:
Photos must not be digitally enhanced or altered to change your appearance in any way.
For assistance in capturing an appropriate photo, please refer to the provided technical requirements and references, including the Photo Composition Template and Digital Image Requirements.
Please make sure your photos adhere to the guidelines before attending the Diversity Visa Program interview.
Frequently Asked Questions
Below you will find answers to the most commonly asked questions about this topic.
Is the green card photo the same as the passport?
The main difference between a passport photo and a green card photo lies in the specific requirements set by the respective authorities. While there may be some similarities in terms of size and format, each document has its own set of guidelines. It is essential to review the requirements for each application to ensure compliance. Discuss this with your immigration attorney if you have additional questions.
What are the photo requirements for a green card application?
See the sections above for exact specifications.
Can I smile in my green card photo?
When it comes to a green card photo, a neutral facial expression is required for a green card photo, following the guidelines provided by the United States Citizenship and Immigration Services (USCIS).
Can you take a green card photo at home?
While it is possible to take a green card photo at home, it is important to ensure that you meet all the necessary requirements. This includes having the appropriate lighting, background color, and following the specified guidelines for size, format, and facial expression. It is recommended to carefully review the USCIS guidelines and, if unsure, consider consulting with a professional photographer.
Is my photo OK for a green card?
You can use the USCIS photo tool if you are unsure whether the photo you have is acceptable to immigration officials.
How strict is USCIS about photos?

They are stringent on abiding by the outlined requirements. See the complete details above. It is always recommended to refer to the official USCIS website or consult with an immigration attorney for the most up-to-date and accurate information regarding green card photo requirements and USCIS policies.