The Online Nonimmigrant Visa Application, also known as Form DS-160, is used by individuals who want to apply for a temporary visa to travel to the U.S. and fiancé(e) visas (K visas). It is not the appropriate form if you seek a visa to move to the United States permanently. For that, you would need to apply for a green card. Form DS-160 will ask you several questions about your history, family, and many other personal questions to determine your eligibility. In conjunction with the personal interview, these answers will dictate whether or not you are approved for the visa. On this page, you will learn how to fill out Form DS-160 online, how to retrieve it after submission and you will find answers to the most commonly asked DS-160 questions. This form is one of many forms that are required in family immigration. VisaNation takes care of all of the paperwork for you, so you don't have to worry about it at all. Start your application today!
Increase Your Green Card Approval Chances with VisaNation's Innovative Software.
Apply for a Nonimmigrant Visa with Form DS-160
Applying for Form DS-160 is done electronically through the U.S. Department of States Consular Electronic Application Center. To fill out the entire form it will take around 90 minutes, and you can have other people assist you, such as a qualified immigration expert. You must, however, electronically sign and submit your application under U.S. law unless you qualify for an exemption. If you do not speak English, you can change the language of the form in the upper right-hand corner of the page where it says "Select Tooltip Language." There are several different language options available, including French, German, Italian, Chinese, Hebrew, etc.
How to Retrieve DS-160 Form
If you've already started an application, then you can retrieve your DS-160 by putting in your application ID and answering a security question. You do not need to start an entirely new application if you are able to retrieve the one that you already started. The link is on the right-hand side of the page, where the arrow is pointing below.
Increase Your Green Card Approval Chances with VisaNation's Innovative Software.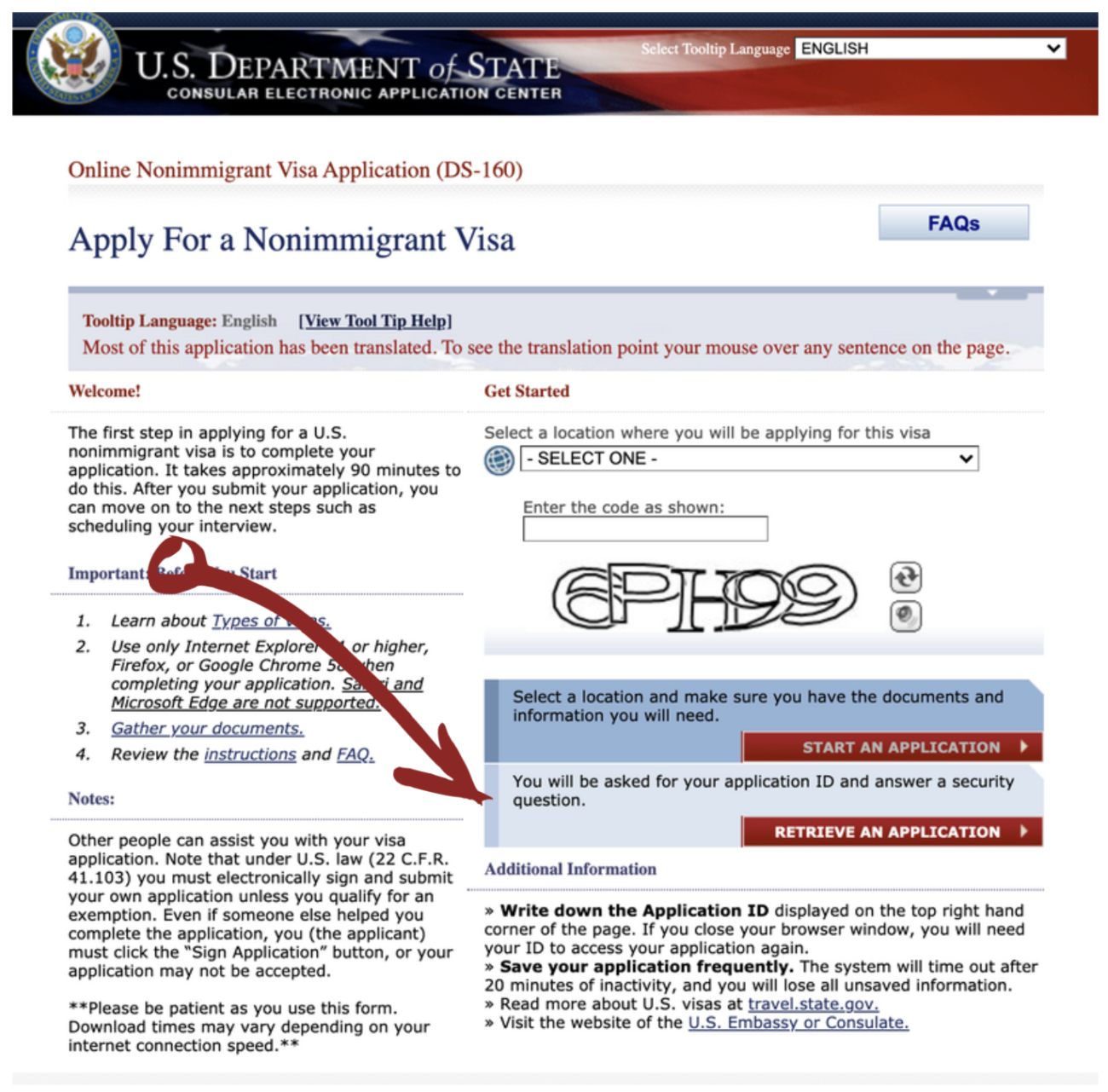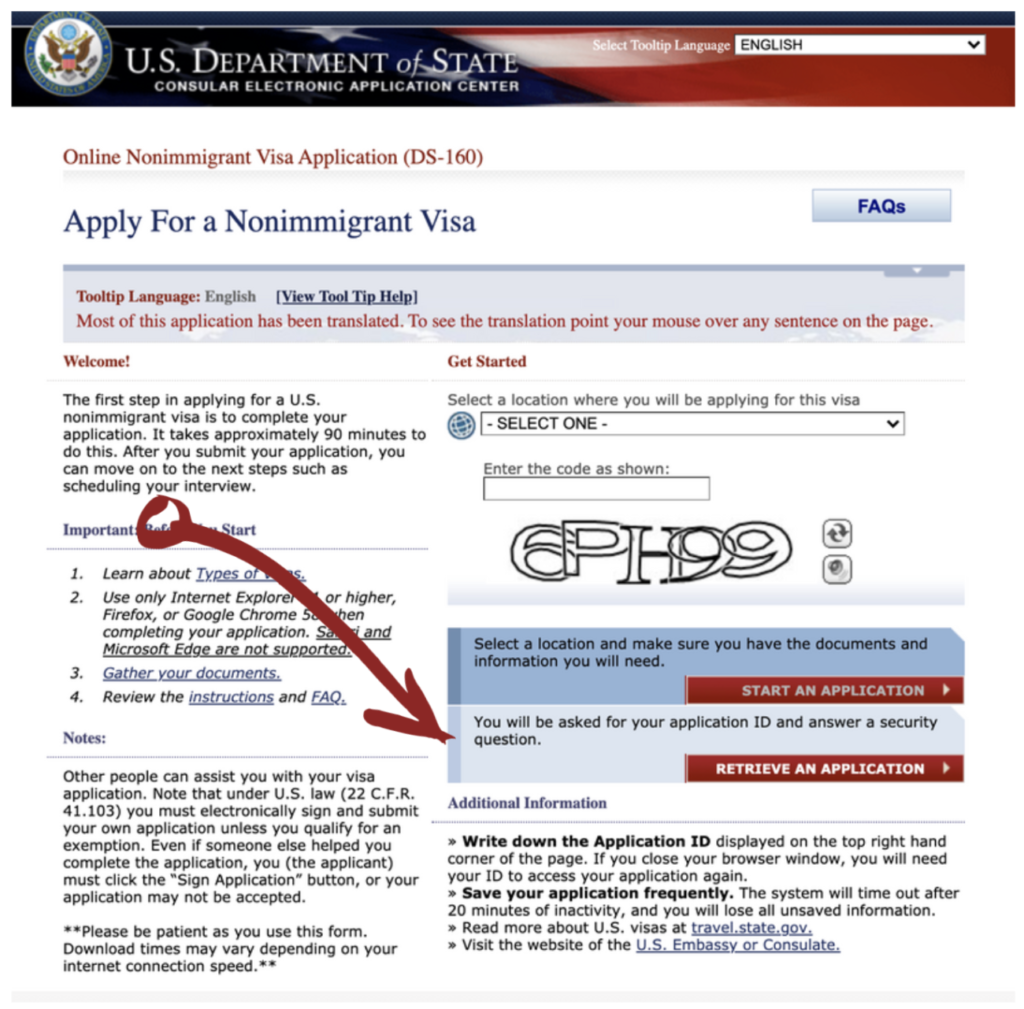 Documents Needed for the Application Process
There are many documents you will need to fill out Form DS-160. They include:
Passport
Travel Itinerary
National ID number (if issued by home country)
Social Security Number/U.S. Taxpayer ID (if applicable)
Employment history documents
Travel history documents
Information about travel companions
Digital version of a recent photograph of yourself (must meet U.S. government requirements). See examples of acceptable photos.
Coming to the U.S. to study? If so, you need a copy of your SEVIS ID (found on your I-20 or DS-2019) in addition to the address of the school or university you will be attending. If you are a temporary worker, have a copy of your I-129 on hand. Our process is fast and simple – all you have to do is answer questions and we will take care of the rest. Get started today!
Increase Your Green Card Approval Chances with VisaNation's Innovative Software.
Sections of the DS-160 Application
Section 1: Personal History and Information
The first part of the application will ask you about personal information including your date of birth, legal name, marital status, nationality, passport/national ID number, and your U.S. Social Security number or taxpayer ID if you have one.
Section 2: Travel Itinerary
What are your travel plans? What is the purpose of your trip to the United States? This section asks you specific travel itinerary plans including your arrival and departure dates, the address you will stay in the United States, etc.
Section 3: Who You Are Traveling With
Bringing a travel companion with you to the United States? This section asks for details about who you are traveling with, whether it is a relative, friend, group, etc.
Section 4: Prior Travel to the United States
Traveled in the past to the U.S.? If so, you will need to detail why you came in the past and the dates. This section will also inquire whether you have ever been denied a U.S. visa or if you have ever filed an immigrant petition with USCIS. Always be honest and accurate with your answers.
Section 5: Contact Information
You will need to submit your current address and contact information like email address and phone number in this section. They also ask for social media account handles from the past five years for sites like Facebook or Twitter. (Do not provide your password or login credentials to these accounts) USCIS may review your activity on these social media accounts.
DS-160 is one of the essential forms that must be completed for the fiance immigration pathway. Any mistake can set you back several weeks if not months. Don't let errors hold you back and let us increase the chances of approval by creating an error-free application for you. Get started today!
Section 6: Passport Details
This section is pretty simple – submit the passport numbers they ask for.
Section 7: Contact in the United States
For this section, you must identify someone in the United States who can vouch for your identity. So if you are visiting a friend or relative in the U.S., you can include them. If you do not know anyone, you can put the name of an organization or business you are visiting.
Section 8: Family Members
You will be asked for information about your parents, spouse, nationality, home address, and any relatives who live in the United States.
Section 9: Employment History, Education & Training
This section will ask you about your educational history, employment history, and occupation up to five years in the past. It may also request details about past travel history.
Section 10: Security Questions
This section has 25 questions (yes or no format) regarding national security.
Section 11: Photo Requirement
You are almost done with the application if you have made it this far! This section asks you to upload a digital version of a recent photograph of yourself (must meet U.S. government requirements). Have the image file ready on your computer so you can upload it. Remember that you still need to take a printed passport-style photo with you to the visa interview.
Section 12: Sign and Submit Your Application
You made it to the final section! Carefully review all the previous section answers for accuracy and agree to the terms/conditions, then click submit! You must print the final confirmation page, and you need to bring it with you to the visa interview!
Tips When Filling Out Form DS-160
You must complete the form online. There is not a paper version of it. You can work on it in multiple sittings. You have 30 days to complete it in its entirety.
Write down your application ID located on the top right-hand corner of the page in case you accidentally close the browser. You can retrieve it using the ID.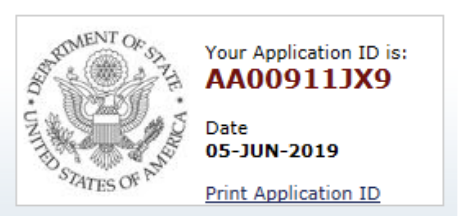 There is an option to create a family application if you need to fill out more than one DS-160 for family members. After you complete one application in its entirety, follow along to the 'Thank You' page, and there will be an option to select 'create a family application.' Many of the details are automatically filled in, saving you time in the process by selecting this option.
Save the application frequently. If you are inactive within 20 minutes on the page, then the system will time out, and any information you have not saved will be lost.
Remember to electronically sign your application (unless you qualify as exempt). If you do not electronically sign it, then it might not be accepted.
After submitting DS-160, print and keep a record of the barcode page.
Here is a sample DS-160, Online Nonimmigrant Visa Application
Always fill out the information honestly. If you are not sure about the answer to a question, it is best to have a qualified immigration professional assist you.
Increase Your Green Card Approval Chances with VisaNation's Innovative Software.
Steps after Completing Form DS-160
Once you have completed the DS-160 for yourself and any family members accompanying you, print the confirmation page and bring it along with you to the interview at the U.S. embassy/consulate along with any documents required by your visa. You can always log into the system again using your Application ID if you did not print it out immediately after completion. Wondering the status of your application? You can check the status with your Application ID.
DS-160 Frequently Asked Questions
Below are some of the most frequently asked questions about Form DS-160. If you have additional questions, it is best to consult a qualified immigration professional.
Who needs to fill out Form DS-160?
The DS-160 is intended for anyone who plans to visit the U.S. on a temporary visa, anyone coming to the country on a K-1 visa to get married, and Mexican citizens applying for a TN visa.
Can I bring my spouse without filling out another DS-160?
All individuals planning to travel to the United States need to fill out their own DS-160. There is a way to save time in the application process for multiple family members by creating a family application (instructions found under the tips section).
Increase Your Green Card Approval Chances with VisaNation's Innovative Software.
How much does the DS-160 cost?
It costs nothing to file the DS-160. You will, however, need to pay the visa fees, which for many non-petition-based nonimmigrant visas are $160. The following categories are considered non-petition based nonimmigrant visas: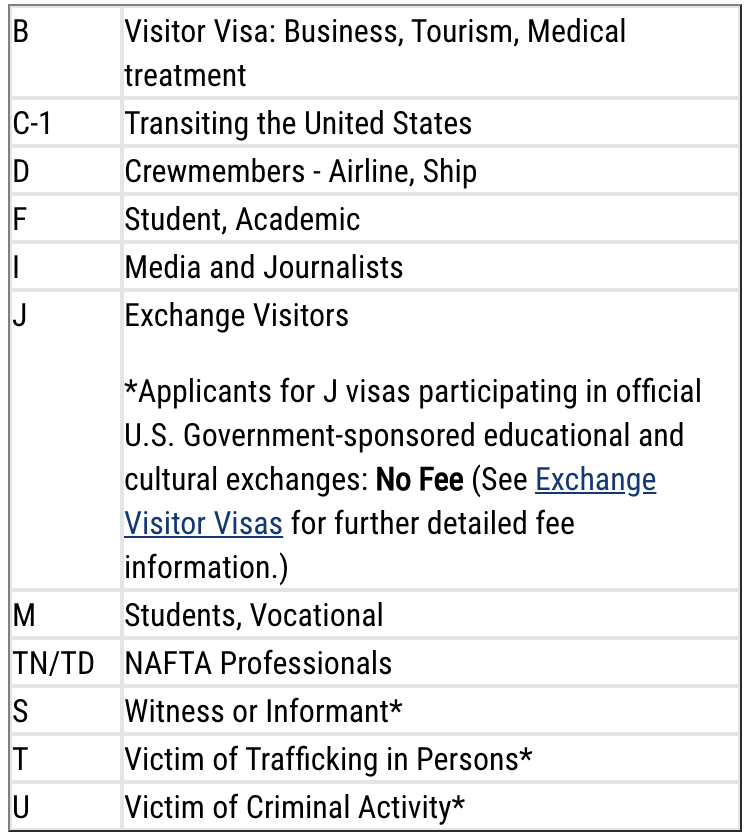 Petition-based visa categories have a fee of $190, and those include temporary workers, intracompany transferees, persons with extraordinary abilities, athletes, artists, entertainers, international cultural exchange visas, and religious workers. Find out the complete list of visa fees to help you better understand the involved costs.
What do I do after filling out Form DS-160?
After you have submitted the form electronically, you should contact the U.S. embassy or consulate in your country to confirm if you need to schedule an interview with a consular officer. You can easily find contact information for a U.S. embassy in your country.
How can I electronically sign the DS-160 form?
At the end of filling out the form, there will be a button that says "Sign Application." You must sign it for it to be valid and your signature certifies that you understand and have read all the questions and are submitting accurate answers to the best of your ability. On the day of your interview at a U.S. embassy or consulate you will also have your fingerprints scanned and must read the following statement:
"By submitting my fingerprint, I am certifying under penalty of perjury that I have read and understood the questions in my visa application and that all statements that appear in my visa application have been made by me and are true and complete to the best of my knowledge and belief.

Furthermore, I certify under penalty of perjury that I will tell the truth during my interview and that all statements made by me during my interview will be complete to the best of my ability."
Can someone else complete the DS-160 on my behalf?
If you are not competent enough to complete the form yourself, you can be assisted by a third party but they must be acknowledged by name on the "Sign and Submit" section of the form. If the application is under the age of 16, a parent or guardian (or whoever has legal custody) can complete the questions and check the "Sign Application" button on their behalf.
Can I save the application to my computer and finish at a later time?
If you want to complete the DS-160 in multiple sittings you can save the application to your hard drive or a disk and this will give you the opportunity to access it for 30 days. It's recommended not to save the application on a shared computer since the answers can be tampered with. Below are the instructions for saving it to your computer:
Click the "Save Application to File" button.
On the File Download window, click "Save".
Choose where on your computer you want to save the application to and then click "Save" on the "Save As" window.
The system will download your application to the specified location.
Once the download is complete, you can click "Close" to return to the live application on the website.
Am I able to reuse a DS-160 if I apply for U.S. visas multiple times?
It is possible to use answers from a previous DS-160 form you previously submitted on a new form. The best way to do this would be to save the old one on your hard drive first using the instructions above. Then, when you apply for the new visa you can select "Option B-Upload a Previously Saved Application" on the Getting Started page. Another way you can do so if your prior application was submitted after November 1, 2010, is to select Option C- Retrieve Application" and you can enter your previous application ID, then "Create a New Application". Your previous answers will populate in the form.
Do I need to fill out DS-160 if I am applying for a Treaty Trader/Treaty Investor, E Visa?
If you are an applicant for the E-3, Treaty Investor Visa then you need to fill out form DS-160. If you are applying for an E-1 or E-2, then you also must complete the DS-160 and you or your employer also need to fill out the DS-156E form.