The H-1B visa is the most popular U.S. visa due to its numerous benefits, especially the opportunity to apply for a green card application. One of the most common terms related to the H-1B visa is "dual intent" which refers to certain temporary visa classifications with the option of green card application. Not all temporary/nonimmigrant visas have these options. In this guide, we'll explore the H1B to green card process including steps for the best chances of approval. 
For instance, some visa categories only allow renewal for the same status, while some only permit changing to another temporary status. For some visas, there are no options for renewal or changing of status as those in those categories will need to return to their country of origin upon expiration of their status. This is one of the superior advantages the H-1B Visa has over most other nonimmigrant U.S. visas.
Individuals under H-1B or L-1 status are frequently eligible to apply for a green card for the right to live and work permanently in the United States. This process is known as adjustment of status. Obtaining an employment-based green card consists of multiple steps and a specific application process. As a foreign worker on a temporary status like H-1B, you may be exploring your options as your status approaches its expiration date. Going through the employment-based green card process while under H-1B status has many benefits, especially if you have an approved I-140.
H1B to Green Card Process
By submitting an I-485 you're asking USCIS to adjust your status from H-1B to green card (lawful permanent resident) status. Foreign nationals are able to request an extension of their H-1B status in one-year increments if their Labor Certification or I-140 was filed a year (365 days) prior to the beginning of their exemption from the normal 6-year limit (this takes into account any recaptured time abroad).
The exception is if you have an approved I-140 and your priority date is not current (or if your LCA has been pending for a year). In those circumstances, you will have unlimited extensions until you can complete your green card application process. You can determine your priority date by looking on the I-797 sent to you from USCIS approving your I-130.
It's crucial for the foreign worker to maintain lawful immigration status while in the green card process or making the change from H-1B to Green Card (EB-2/EB-3). In order to do so, you must submit an I-485 petition to USCIS–this generally occurs after the USCIS has already approved your employer's I-140. In some instances, concurrent filing may be selected which permits both the I-485 and I-140 petition to be submitted at the same time.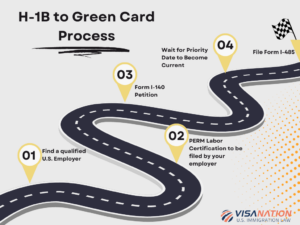 Step 1: Find a Qualified U.S. Employer
You must first find an employer who is willing to sponsor you for your green card by offering you a position that qualifies under an employment-based green card category. Most of the U.S. employment-based green card categories must be sponsored by an employer. This can be either your current H-1B employer or a different employer. Some requirements must be met before an employer can qualify to sponsor an employee's green card application. 
If your current employer doesn't meet these criteria, you may need to change your job before you can commence your application process. Also, not all H-1B job positions meet green card adjustment requirements. For this reason, you may also need to change your current job position or take on roles with bigger responsibilities to garner the required work experience for your choice of a green card out of the available employment-based categories.
Step 2: PERM Labor Certification to Be Filed By Your Employer
Then, your employer must obtain a PERM Labor Certification. This means that the prevailing wage will need to be determined and eventually paid as your wage, an extensive recruitment process must take place for the position you will fill to ensure that no U.S. workers are available, and an ETA 9089 form must be filed.
Step 3: Form I-140 Petition
Once the PERM has been approved, your employer must then file an I-140 Immigration Petition for Alien Worker. On Form I-140, your employer must prove they are in good financial shape, as that is needed to demonstrate their ability to pay the salary for the job position. The form must be submitted with the approved PERM labor certification and a filing fee. If your petition is approved, then the USCIS will send you an Approval Notice. This indicates that you can move to the next stage of your green card application process. Keep in mind that an approved I-140 doesn't mean your status has been adjusted from nonimmigrant to immigrant. You will need to wait until the end of the 5th step, which is I-485 petition approval.
Step 4: Wait for the Priority Date to Become Current
As soon as the USCIS receives your petition, that date is your priority date. You will need to wait until your priority date becomes current before moving on to the final step. Check the latest visa bulletin to learn more about current dates.
Step 5: File Form I-485
Once you have a current priority date, you can apply for an adjustment of status by submitting the I-485 form with the USCIS. If it is approved, then you will receive your green card.
Consequences of Delaying the Green Card Process
The EB-2 visa lawyers at VisaNation Law Group frequently receive the question: What happens if I wait until my H-1B status expires before applying for a green card?
The answer is relatively straightforward. By submitting an I-485 you're essentially asking USCIS to adjust your status from H-1B to green card (lawful permanent resident) status.
The operative words to remember are "adjust your status". If you are not 'in status', meaning that your H-1B has already expired, then you can't technically adjust it. For that reason, the USCIS will usually deny your request and you may be subject to the consequences of remaining in the U.S. while "out of status".
Moving from H1B to green card involves methodical steps that could result in delays or denials if done improperly. For that reason, the H1B to green card process is best handled by a qualified immigration attorney.
How Soon Can I Start H-1B to Green Card Process?
As an H-1B holder, you can start your status adjustment to green card status as soon as your employer is ready to sponsor you. Each year, there are tens of thousands of employment-based green card applications submitted for processing. This process involves various organizations, which include the Department of Labor (DOL) and the United States of Citizenship and Immigration Services (USCIS). On average, the DOL process takes about 6 months, and the USCIS process also takes several months.
For example, a look into the DOL statistics for PERM Labor Certification FY 2023 Q2 shows that the H-1B employers had the largest number of employment-based PERM applications for a green card. Out of 74,579 applications for the first two quarters of the year, 32,386, which was 66.3% of the total figure came from the H-1B category. 
A further review of the top 5 occupations included:
Software Developers, Applications
Software developers, Systems Software
Information Tech, Project Managers
Computer Systems Analysts
Statisticians
This goes to show how competitive the process is and why the preparation work must be started as early as possible. You should also factor in the possibility of an audit review in your application, which can further extend the processing time to more than a year. For this reason, it may be costly to delay your application, as you could be out of status if your H-1B expires when you haven't commenced your green card application process.
When Does My H-1B Status Expire?
You can determine the date when your H-1B status expires by looking at the date listed on your I-94 Arrival/Departure Record. You should have received an I-94 card from the port of entry officer who performed the inspection upon entrance to the U.S. 
If you entered the U.S. and then changed your status to H-1B, the expiration date should be at the bottom of the USCIS approval document. Individuals can consult the Customs and Border Protection database for an electronic copy of their I-94.
Once your H-1B status has expired, you will have a 10-day grace period to arrange preparations to return to your home country or to find a way to extend your status beyond the usual maximum.
H-1B Extension Past 6 Years
For the most part, you are unable to extend your H-1B visa past the 6-year maximum, which can be problematic if you need more time in the U.S. Fortunately, for those that are applying to go from an H-1B to a green card, you can petition to extend your H-1B in one-year increments while you wait. 
For some countries, it can take years for your priority date to become current, so as long as your I-140 has been approved by the USCIS and you are only waiting on your priority date, you can look into extending your H-1B past the 6-year limit.
Additionally, if you have filed for an extension and have not yet received an answer but your H-1B validation period is ending, you are covered under the 240-day rule. This rule states that you can continue working for your current employer (you cannot change employers or transfer your status during this time) for 240 days after the expiration of your H-1B visa. 
However, if your extension request is denied, you will need to cease working immediately, as the 240-day rule only applies while the USCIS is still adjudicating your petition.
H-4 EAD
Another benefit of seeking immigration status from your H-1B is the opportunity it presents to your H-4 spouse. As long as you have an approved I-140 with the USCIS, your spouse will be able to file for employment authorization by getting an Employment Authorization Document (EAD). This will allow him or her to work anywhere in the U.S. with little restriction.
However, this EAD is tied to your principal H-1B visa. If you were to lose your H-1B status, your H-4 visa dependents would lose their statuses as well, including your spouse's EAD. However, if you were to no longer have an approved I-140 with the USCIS (if your employer were to withdraw your petition or if you were to attempt to transfer employers), then the H-4 holder's EAD would be valid until their expiration date, where they could not be renewed unless you were able to have another I-140 filed to replace the one that was lost or withdrawn.
Regaining H-1B Status After Expiration
If your H-1B status has expired and you want to try to regain it, there are a few options. USCIS may allow you to extend your status (under section 214.1(c)(4) regulation 8 C.F.R. if you meet their criteria:
The applicant or petitioner was delayed in filing the extension due to extraordinary circumstances outside his or her control.

The alien hasn't violated their nonimmigrant status, remains a bonafide non-immigrant and is not the subject of removal proceedings or deportation.
To learn more about this option, you can visit the USCIS website about extending your status.
EB-2 vs EB-3 Immigrant Visa
Determining when to ask your employer to sponsor you for a green card involves the right timing. However, in many cases, if you wait too long or postpone the process you may confront additional and unwanted delays.
On the other hand, employers may hesitate with this request because oftentimes foreign workers leave their place of work after receiving approval for their green card. EB-2 and EB-3 visas are quite popular options for green cards.
Employment Second Preference (EB-2 Green Card Process)
The EB-2 green card is for professionals holding advanced degrees or individuals with exceptional ability in the arts, sciences, or business.
What is required? A job offer is necessary for the green card process EB-2 immigrant visas require and the U.S. employer must file a petition on behalf of the applicant. You must also have either a labor certification approved by the DOL, a Schedule A designation, or establish that they qualify for one of the shortage occupations in the Labor Market Information Pilot Program.
Aliens may apply for an exemption from the job offer and labor certification if the exemption would be in the national interest of the United States. This is usually the case for entrepreneurs, partners, and small business owners that cannot obtain a job offer.
In these cases, the alien may file the I-140 petition along with a National Interest Waiver as evidence that the business enterprise will benefit the economy or culture of the U.S. An EB-2 visa lawyer can best identify which option would result in approval for your case.
Employment Third Preference (EB-3 Green Card Process)
The employment third preference category is for skilled workers, professionals holding bachelor's degrees and individuals who are considered other workers. These "other workers" include manual and unskilled laborers that do not perform temporary or seasonal tasks.
What is required? Third Preference applicants require an approved I-140 petition filed by the prospective U.S. employer, evidence of having experience in the desired field, and one of the following items:
PERM Labor Certification

Schedule-A Designation

Evidence that they qualify for one of the shortage occupations in the Labor Market Information Pilot Program.
Skilled workers must have at least two years of experience in their relevant fields while unskilled workers may suffice with on-the-job training and the ability to perform unskilled labor. It is important to note that the "unskilled workers" subcategory has a different set of priority dates from the other EB-3 subcategories.
If you are making the transfer from H-1B to green card status, then your employer should have already obtained a PERM Labor Certification on your behalf.
H-1B to Green Card Processing Times
Here is a breakdown of the processing times associated with each step of the H-1B to green card process:
The PERM Labor Certification can take anywhere from six months without an audit to over eighteen months with an audit.

Having your I-140 approved depends on how soon your priority date will be current. If that will not happen for several years, the USCIS may push your petition back to be processed closer to your priority date.

Waiting for your priority date to become current with the

posted DOS final action dates

can be the longest waiting period for some applicants. Take a look at the

most recent visa bulletin

to see where your priority date falls. This wait time heavily depends on which country you come from. 

The processing time for your I-485 depends on which service center it has been sent to. Some service centers are busier and have a backlog while others may have a very short waiting period. You can refer to this database to see the

current wait times

.
At the end of the day, the processing times vary wildly. An EB-2 applicant from Mexico whose employer does not encounter a PERM audit may be able to transition from H-1B to green card status faster than someone from a different country. However, an Indian EB-3 applicant will most likely find themselves waiting over a decade for their green card to process.
In order to get a better grasp of what the waiting times will be in your particular situation, be sure to consult with your immigration attorney.
EB-3 to EB-2 Porting
There is a process known as porting that allows green card applicants to transfer their petition to a different green card status. If your I-140 petition for an EB-3 has already been filed and you are waiting on your priority date, your employer could file a new petition on your behalf under EB-2 status. A significant advantage of going from EB-3 to EB-2 via porting is the shifted priority date. If you look at the most recent visa bulletin, that will give you an indication on whether porting could be beneficial for you. If your EB-3 or EB-2 priority date is the same or earlier than the final action date in your green card category, that means a visa number is available and you can apply for lawful permanent resident status. If done at the right time, you could save years of waiting for your green card through porting. Be aware, however, that to do so requires that a new position to be significantly different and more stringent than the current one in order to make the jump.
However, in order for the second petition to be approved and replace the first, you must not only acquire the personal qualifications for an EB-2 (e.g. master's degree, exceptional ability), you must also acquire a position that requires those new qualifications. So obtaining a higher education degree does not automatically qualify you but it can help your case if the new position requires that advanced degree. 
Can I stay with the same employer and do EB-3 to EB-2 porting? 
In some cases, you can stay with the same employer but know that it will be more heavily scrutinized by USCIS because it has been exploited in the past. The EB-2 job should also be 50% different from the EB-3 job.
Be prepared to defend yourself again the following questions:
Does this promotion make sense? Are you being promoted from "Marketing Analyst" to "Marketing Manager" or to "Senior Product Manager"?
Is the job a well-established position within the company?
Is your employer actively searching for a worker to replace your EB-3 position?
How many other employees has your employer helped with EB-3 to EB-2 porting?
Speak with your immigration lawyer if you are considering this delicate process.
H-1B to Citizenship
Currently, there is no direct path from an H-1B visa to citizenship. In fact, there is no direct path from any nonimmigrant visa to citizenship. In order to become a citizen, you must first obtain a green card through the means we outline in this post. Once you are a lawful permanent resident, you will need to make sure that you qualify, meaning that you have either been a green card holder for five years, you have been married to a U.S. citizen for three years, or you have served in the U.S. military.
After that, you will need to file an N-400 application for naturalization and go through a citizenship interview. There, you will undergo a test that will examine your grasp of the English language as well as your understanding of basic American civics and history. If you pass, you will be able to swear the U.S. Oath of Allegiance and become a citizen.
EB-3 vs EB-2 Green Card Process Fees
Compared to the H-1B visa, the EB-2 and EB-3 process fees are relatively small. Your employer must pay $700 for filing the I-140 petition. Once that is approved, you will need to submit an I-485 which has a fee that varies according to where you fall on this chart.
H-1B to Green Card Denial
As explained above, the H-1B to green card application is a long process with various steps. While all beneficiaries and petitioners want a smooth process all through, this is not always the case. There is a possibility of facing a denial at any of the stages. For instance, your PERM labor certification application can be denied by the DOL. Also, the USCIS has all the right to deny your status adjustment petition if they deem it fit. In the past few years, the denial rate for employment-based green card applications has been increasing. It is, therefore, important to ensure strict compliance with the instructions while filing your application. H-1B to green card application can be denied for many reasons, which include:
Health-related issues from your 

immigration medical examination

 results

Past criminal record

Violation of your immigration status

You do not have enough supporting evidence required for the category you choose

Failure to meet the work experience and academic qualification requirements

Not filing your petition properly

Employer's inability to prove the ability to pay the required salary
What to Do If Your Application is Denied
Receiving a green card denial notice isn't the end of your application process except you don't want to push further. There are a few options to explore to see if you could get the decision overturned. You can request a motion to reconsider or file an appeal.
A motion to reconsider can be filed if you and your attorney are certain that the denial was made in error by the evaluating officer in charge of your petition. You will need to back it up with strong evidence. An appeal means you want a higher authority to take another look at the case. 
The case may be reviewed by three different parties, including the officer who made the first decision, the Administrative Appeals Office (AAO), and the Board of Immigration Appeals (BIA). Motions and appeals can be somewhat complex and time-consuming, but they are routes worth taking, especially if you are sure you provided all the required documentation.
How We Can Help H1B Green Card Process
The H1B to green card process involves many intricate steps and can be overwhelming for many people. With something as important as obtaining a green card, it is highly advised to seek the help of a skilled immigration professional. Our team has helped thousands of individuals navigate the green card process for H1B. Give us a call to schedule a consultation today.