Two of the most common nonimmigrant work visas are the L-1 and H-1B visas. Because of their similarities, it can be difficult to tell the difference and even more difficult to decide between the two if you are in the process of choosing a route to the U.S. In short, the L-1 is more appropriate for those that work for multinational companies while the H-1B is more appropriate for those that wish to have more flexibility in their job.
IMPORTANT UPDATE (6/24/2020): President Trump has just signed a proclamation suspending the stamping of all H-1B, L, and J visas in an effort to decrease competition in the recovering U.S. job market after COVID-19. You can read more about the proclamation and its impact in our recent update.
Brief Introduction
The L-1 visa, also known as the intra-company transferee visa, is a nonimmigrant visa category that is designed to allow multinational companies to transfer their employees from foreign branches to locations within the U.S. These companies can only transfer employees that serve in a managerial or executive capacity as well as employees that have specialized knowledge concerning the company's operations.
Like the L-1, an H-1B visa is also a nonimmigrant visa which permits foreign workers to enter into to the U.S. to carry out the functions of a company, however, the individual must possess knowledge either theoretical or technical in a specialty occupation field. Examples of such include, but are not limited to:
Engineering
Medicine
Science
Mathematics
Architecture
Technology
You may be required to submit evidence that your degree corresponds to the petitioned visa. If that's the case, consider one of the following options:
An explanation detailing how your position or responsibilities within the business relate to your degree and breadth of knowledge.
Expert testimonials and opinions attesting to the value of the degree within the given field or job.
Objective resources showing a clear association between the degree and industry-wide positions.
Both L-1 and H-1B visas are dual intent which means that applicants cannot be denied based on their intention to immigrate permanently to the U.S. (applying for a green card) and/or if they don't intend to maintain ties to their home country.
H-1B vs L-1: Key Differences
DIFFERENCE RELATED TO EDUCATIONAL REQUIREMENTS
As previously mentioned, the H-1B recipients must retain specialized knowledge in the field and possess at minimum a bachelor's degree or equivalent. At a minimum, a bachelor's degree/equivalent or higher constitutes eligibility for an H-1B visa. However, in certain instances, the education requirements may be substituted with hands-on work experience. The key is that you have a relevant degree/work experience for the job accompanying the H-1B visa.
For instance, just because you have a bachelor's degree in Marine Biology, doesn't mean you'll be qualified for an H-1B visa to work as a Mechanical Engineer. Conversely, there is no degree or educational requirement for an L-1 and the specialized knowledge does not need to be in a specific field as is the case with the H-1B.
DIFFERENCE RELATED TO EMPLOYER ELIGIBILITY
The petition process varies significantly between the H-1B visa and L-1 visas.
Only multinational companies qualify for L-1 visas. This status is for individuals who have a prior work history with the company but live in a foreign country. An L-1 visa must be filed by an intra-company transferee which means that the individual was employed for an entire year (within the past three years before filing the L-1 visa petition). If this consideration is not met, or the enterprise is not multinational, an L-1 visa is no longer a viable option.
An H-1B visa, on the other hand, can be petitioned for by any United States-based company, assuming the other requirements are met. Once granted, however, the visa is valid only to work for that specific employer or corporation.
DIFFERENCE RELATED TO MAXIMUM DURATION OF STAY
Another significant consideration of an L-1 or H-1B visa is the maximum duration. On an L-1 visa, the maximum length an individual is allowed to stay is 7 years (5 years as an L-1B professional). An H-1B visa holder may remain in the county for a total of six years but there exists the opportunity to file for a 3-year extension.
Below is the breakdown for L-1A, L-1B, and H-1B visas:
L-1A—Seven Years
L-1B—Five Years
H-1B—Six Years
If an individual has spent any amount of time in the U.S. on an H visa, that time is applied towards the maximum duration of the L visa, and vice versa. For the L-1 visa, there is no possibility of extension past the above maximum time periods. It is possible, however, to extend an H-1B visa beyond the predetermined time frame if certain steps toward lawful permanent residency have been taken. Consult an immigration attorney to ascertain the necessary documents and proceedings.
DIFFERENCE RELATED TO ANNUAL VISA LIMITATIONS
It's sometimes easier to gauge the right type of visa for you based on the annual limits. For example, if only a small fraction of applicants are approved according to annual caps, you may be better off taking an alternate route.
When it comes to the numerical limitations of an L-1 versus H-1B visa, this is a major difference. The government sets no limits to the number of L-1s approved every year—which is great news! This is a tremendous benefit because it means you won't be denied solely because the cap has been reached. In stark opposition, you may face a roadblock when attempting to file an H-1B because of the visas previously allotted.
Unfortunately, this does not carry over to H-1Bs. The H-1B regular cap is 65,000 with an extra 20,000 reserved for master's exemptions. Click here for the H-1B 2018 Cap Specifications.
For those that are visual learners, you can take a look at this helpful guide on L-1 vs H-1B visas.
Benefits of L-1 over H-1B
SPOUSE CAN SEEK EMPLOYMENT
Likely one of the most prevailing factors in favor of an L-1 visa is the ability for L-2 visa holders (spouse or unmarried minors of L-1 visa holder) to get Employment Authorization Documents (EAD) and find work. The immediate family members of H-1B visa holders are also now able to acquire EADs in light of the President's recent executive action. Learn more about the process to obtain a work permit.
However, all L-2 visa holders are able to work in the U.S. while H-4 EADs are only granted to the H-4 spouses and dependents of H-1B holders who have an I-140 petition submitted and approved by the USCIS. Also, if the I-140 is revoked, withdrawn, or otherwise removed, the H-4 holder will not be able to renew his or her EAD when it expires unless another I-140 is approved for the principle H-1B holder.
On a similar note, L-1 petitions do not maintain a prevailing wage which is typically established by the State Employment Security Agency based on the duties, skill, and experience required for the position. This may be a hindrance or a benefit depending on the wage determined by your employer. H visa holders are subject to be paid the prevailing wage or actual wage; whichever is higher.
Additionally, under the current political administration, H-4 holders may not be able to seek employment authorization much longer. There is an effort to remove this privilege from the spouses and dependents of H-1B holders. If this comes to fruition, these people will need to find an alternative within the immigration system to work in the U.S.
NO CERTIFICATION REQUIRED FROM DEPARTMENT OF LABOR
L-1 employers do not have to experience the hassle of submitting a Labor Condition Application (LCA) which essentially demonstrates a lack or unavailability of domestic workers to fulfill the role. Not only is this tedious and time consuming, but it can cost additional funds in some cases, though the LCA itself does not come with a filing fee. To get an LCA, an H-1B sponsoring employer must make four attestations:
That the beneficiary will be paid the prevailing wage
That the current employees have been notified of the intent to hire the beneficiary
That hiring the beneficiary will not negatively impact the working status or environment of the current employees
That no strike or lockout is in effect at the beneficiary's proposed place of work.
Opening a New Branch
One major advantage of the L-1A visa is the ability for executives and managers to come to the U.S. with the intention of opening a new branch, office, or subsidiary where one does not already exist.
Once the office has been open and is doing business, L-1B holders can be transferred to the new office to help support the new office's operations.
LARGE CORPORATIONS CAN USE BLANKET PETITION
Several large companies that regular transfer employees between the US and foreign offices can take advantage of the blanket L visa petition option, which makes the entire process much easier.
Some of the requirements for using the blanket petition option include: the employer must have obtained at least 10 L-1 approvals during the previous 1 year or has U.S. subsidiaries/affiliates with a combined $25 million in revenue or has at least 1000 employees in the U.S. By contrast, H-1B does not have any option for filing blanket petitions.
Here's a brief recap of the benefits of the L-1 visa over the H1B:
No annual cap on the number of L-1 visas granted
Does not require any specific educational degree
Employers do not need to submit a labor condition application
Longer length of stay for L-1A manager and executive professionals; seven years as opposed to six. However, there is no possibility to file for a three-year extension.
Advantages of H-1B over L-1
OPPORTUNITY TO FILE FOR AN EXTENSION
As an H-1B visa holder, you can remain in the county for a total of six years. Unlike the L-1 visa, however, you can file for a 3-year extension on H-1B status if a Labor Certification/I-140 petition is filed 365 days prior to the expiration.
NOT LIMITED TO ONLY MULTINATIONAL COMPANIES
H-1B visa holders do not necessarily need to work for a multinational company. Basically, any U.S. employer may seek the skills of a foreign worker provided that they are offering a specialty position that requires a bachelor's degree.
Can Hold a Variety of Positions
Unlike the L-1 visa, which requires the applicant to be an executive, a manager, or an employee with specialized knowledge about the company's operations, an H-1B applicant can fulfill a wide variety of roles as long as they coincide with his or her educational/experience and qualify as specialty positions.
Can Be New To the Company
The L-1 visa requires each applicant to have worked in the company for at least one consecutive year during the three years leading up to the L-1 application. Through an H-1B, however, you can work for an entirely new employer.
Can Work for Multiple Employers
H-1B applicants can file petitions for multiple employers and are permitted to work part-time in the U.S. Additionally, the H-1B allows holders to transfer their status to another employer at any time during their stay. The L-1 visa mandates that visa holders work exclusively for their sponsoring multinational employer.
Here is a slide from our helpful video about L-1 vs H-1B visas recapping the advantages and disadvantages between the H-1B and L-1 visa.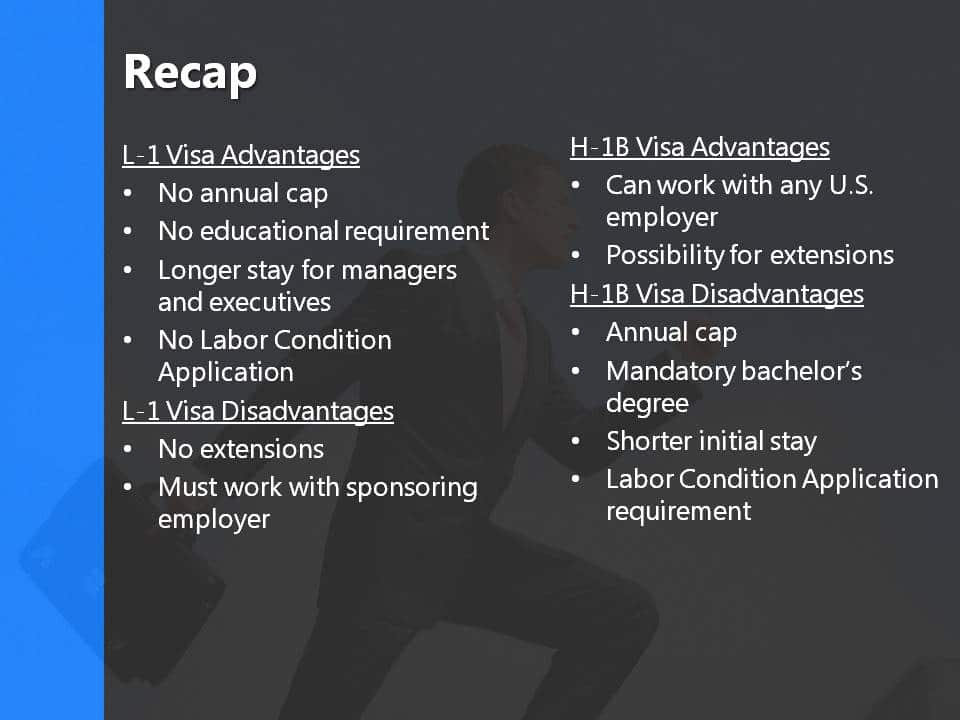 Switching from One Visa to the Other
If you have either an H-1B or an L-1 visa and see that the other visa is better for your situation, you may want to make the change for the sake of your immigration future. While switching from an H-1B to an L-1 is less common due to the fact that you must have worked for one full year in the three years leading up to your petition.
However, many people choose to change their status from an L-1 to an H-1B visa. This could be either due to the greater flexibility or the opportunity to work for a different employer. To do this, you will need to find an employer who is willing to sponsor you for an H-1B visa. If this employer is cap-subject, you will not be able to have your petition submitted until the lottery window opens on the first business day in April and you will not be able to start working as an H-1B worker until October 1st of that same year.
If you are going with a cap-exempt employer, then you can start working as soon as your I-129 is approved without having to wait for the cap filing window. You will also not have to wonder whether or not your petition will be selected.
You will need to make sure that you have at least a bachelor's degree that is related to the specialty position for which you have a job offer. The USCIS will heavily scrutinize the specialty nature of the position, so it may be best to retain the services of an H-1B attorney to ensure that you qualify.
How VisaNation Law Group Immigration Attorneys Can Help
The H-1B and L-1 visas each possess their share of pros and cons. They are both temporary work visas and maintain dual intent–with the option to apply for a green card without affecting visa status. It's crucial to carefully weigh the similarities and differences of each one in relation to your unique needs and status. Keep in mind the education and employer requirements, maximum duration, annual caps, and spouse employment.
Contact a VisaNation Law Group  Fort Lauderdale immigration lawyer to begin the filing process today. We ensure that all documents and petitions are filed in a timely manner and make it a point to accommodate each one of our clients.
Related H-1B Topics