Work visas come with a variety of benefits for the person receiving them and their family. By getting certain work visas, beneficiaries can bring family members into the U.S., some with more perks than others. Find out how the H-4 dependent visa works, the processing time, and how to get an Employment Authorization Document.
What is an H-4 Visa?
The H-4 visa is for the spouses and dependents of H visa holders who would like to accompany the principal H visa holder into the U.S. The current H visas include:
H-1B: for specialty workers with bachelor's degrees
H-2A: for temporary agricultural workers
H-2B: for temporary nonagricultural workers
H-3: for those that are coming to the U.S. for training purposes
Your H-4 status will be tied to that of the principal H visa holder, so if something occurs that causes the principal holder to lose their status, you will lose your status as well. Conversely, if the primary holder extends their status, USCIS will also extend your status.
Under H-4 status, you will be able to live and study in the U.S. Those that are the spouses of H-1B holders can also work, provided that they obtain valid Employment Authorization Documents (EAD). Additionally, as of 2015, H-4 visa holders can apply for lawful permanent residence (green cards).
H-4 Visa Application Process
With the H-4 visa, you can either visit a spouse or parent working in the U.S. under H-1B status, or you can accompany them.
If you are outside of the U.S. and not under any other nonimmigrant visa status, you will need to go through a U.S. consulate or embassy to obtain your H-4 visa. Once your spouse or parent has an approved H-1B visa, you can apply using the DS-160 online application for nonimmigrant visas.
Once you've completed the application and paid the filing fee, be sure to print out the confirmation and receipt of payment. You can then schedule an appointment with the U.S. consulate in your home country. There, you will be called in for a one-on-one interview with a consular officer to determine the legitimacy of your case. You may be asked questions about your H-4 visa, your spouse or parent, their employment, or your plans in the U.S.
If your application is approved and your interview goes well, the consulate will keep your passport and mail it to you with your H-4 visa stamp inside. You can then accompany or visit your H-1B parent or spouse in the U.S.
What is the H-4 Processing Time?
The H-4 processing time is anywhere between 5 to 9 months. However, the wait time will generally depend on the caseload of the U.S. consulate or embassy that you will go to for your interview. You may have to schedule your interview several weeks in advance. If you are approved, then it will also take a few weeks for the embassy to mail you your passport with your visa inside. You can see your consulate's specific processing time by searching on the State Department's site for the consulate city. In the table below, you can see an example of processing times for New Delhi for 2023. You can also compare the efficiency of different embassies and consulates by referencing global wait times. The form that initiates your H-4 application is DS-160, which is usually the longest part of the application process.
H-4 Extension Processing Time
If you want to extend your H-4 visa, you can apply for an extension which is usually processed between 4 and 6 months. You must submit Form I-539, Application to Extend/Change Nonimmigrant Status, to initiate the extension process. As with any other USCIS form, the processing time will depend on which center is assessing your form.
For example:
California Service Center usually takes 5 months
Nebraska Service Center usually takes around 5.5 months
Texas Service Center usually takes around 4.5 months
Vermont Processing Center usually takes around 4 months
If you already have an approved EAD (I-765) while on H-4, then you can expect your H-4 visa extension to be processed slightly faster at around 1 month faster.
H-4 Adjustment of Status Processing Time
Regarding H-4 processing time for a change of status in 2023, it takes between 6-12 months (this is not considering the processing times of consulates for the actual visa issuance). To initiate this process, you will need to submit Form I-485.
Speak with your immigration attorney to get a better idea of what your H-4 processing time will be.
Unfortunately, while premium processing is occasionally helpful for expediting the H-1B petition, applicants cannot use it to expedite the H-4 visa processing time nor for extending H-4 visas.
How To Get an H-4 Work Permit
There are two requirements that you must meet before getting an H-4 work permit or H-4 EAD for spouses.
Must be the spouse of an H-1B holder—no other H visa has this benefit, and dependents do not qualify.
Your H-1B holder spouse must have successfully filed an I-140 petition to establish permanent residence in the U.S. through a green card. The USCIS must have already approved this petition. As long as the I-140 has been approved, you are eligible for an H-4 EAD.
If your spouse's I-140 is revoked before you obtain your EAD, you will no longer be qualified for it. However, if this happens after you have gotten your work permit, it will remain valid until its expiration date.
Also, if your spouse has multiple I-140s approved with the USCIS, having one revoked will not invalidate your EAD.
Alternatively, you may also be able to qualify if your spouse was admitted for H-1B status under sections 106(a) and (b) of the American Competitiveness in the Twenty-first Century Act of 2000 (AC21). Speak with your immigration attorney to see if you fall under this exception.
On the other hand, if your H-1B spouse loses their job, they will have 60 days to find a new employer to sponsor their H-1B. If your spouse cannot find a new sponsoring employer, you will both fall out of status. As a result, you both will need to leave the country, and your EAD will be invalid. There are several sites that make available H-4 EAD tracker tools. Those can be beneficial to monitor the status of your submission.
H-4 EAD Application Process
You can file an I-765 Immigrant Petition for Alien Worker if you are qualified. You will need to submit specific H-4 EAD documents as well to avoid unnecessary delays and requests for evidence (RFEs):
Evidence of your H-4 status includes a copy of your I-797 approval notice or a copy of your I-94 arrival/departure card.
Proof of a legitimate marriage between you and the principal H-1B holder. This can be in the form of a marriage certificate copy.
Proof of your identity such as a birth certificate, a copy of your passport, a visa, or even a past EAD.
Evidence that your spouse has an approved I-140. You can submit the I-797 approval notice for the green card.
Lastly, you'll need two identical photos of yourself in color that are passport-style: 2×2 inches.
If and when USCIS approves your petition, you will be able to work. However, it is essential that you do not work before that time, as unauthorized employment in the U.S. can damage your ability to get an EAD, renew your status, or get a green card. It might even result in deportation.
Once you get your EAD, you will enjoy the freedom to work in whatever capacity you desire, be it full-time work, part-time work, or even work for multiple employers simultaneously, just like your H-1B spouse. However, unlike your spouse, USCIS will allow you to work for any employer and not limit your sponsor. Feel free to move from one job to the next without jeopardizing your H-4 visa status.
The current USCIS processing time for Form I-765, Application for Employment Authorization (EAD), is between 2 and 3 months. However, the H-4 EAD premium processing will decrease the wait time to just 30 days! The premium processing service will set you back $1,500.
H-4 to Green Card Options
Fortunately, a significant benefit of the H-4 visa is that it has dual intent, meaning that you can pursue lawful permanent resident status without impacting your visa.
Once you are under a valid H-4 status, your green card process will be the same as any other. You will need to choose a green card based on what works best for your situation. Here are some methods:
You can have your H-1B spouse obtain their green card before sponsoring you for an F2A green card.
If your spouse becomes a citizen, they can sponsor you for a marriage-based green card, which is the green card with the shortest processing time.
You can have your employer sponsor you for an EB-1, EB-2, or EB-3 visa:

The EB-1 is for outstanding researchers, professors, multinational executives, and managers.
The EB-2 is for those with advanced degrees and exceptional ability in their field.
The EB-3 is for bachelor's degree holders, skilled workers, and other workers.

You can also self-petition using the EB-1A or the EB-2 green card with a National Interest Waiver.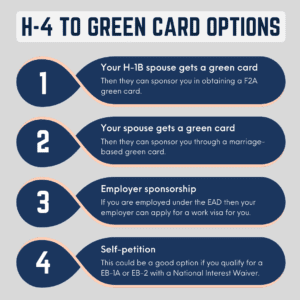 Basic steps that are common for most immigrant visas:
You or your sponsor must file the appropriate petition for your green card (e.g., I-140, I-130, etc.) along with the applicable fees.
You must wait until your petition is approved. For the I-140, you may be able to opt for premium processing, which will make your processing time just 15 calendar days.
For all visas except for the marriage-based green card, you will have to wait until your priority date is current. Your priority date is the day that the USCIS receives your petition. The Department of State published its "final action dates" in its monthly visa bulletin. Once your priority date matches or passes the final action date in your category, your priority date will be current, and you can move on to the next step.
Lastly, you will have to file an I-485 application to adjust your status. This will take about six months to process depending on how busy your USCIS service center is. You will officially be a lawful permanent resident after your status is adjusted (from H-4 to a green card).
Once you have your green card, you will be able to live and work freely in the U.S. without work permits. You also only have to renew your green card once every ten years, and you do not have to re-qualify.
H-4 EAD Provision
In November of 2021, AILA and USCIS settled a lawsuit regarding lost employment/wages from spouses of H-4 and L-2 visa holders as the result of processing backlogs from COVID-related protocols in USCIS field offices and the Trump administration's mandate requiring H-4 and L-2 visa applicants to get biometrics when extending their time in the country.
During the settlement, the following was decided:
H4 spouses who file their I-765 EAD renewal applications promptly and maintain H-4 status past the expiration date of the EAD would qualify for an "automatic extension of their employment authorization for 180 days after the prior EAD expires or until the end of their H-4 status, whichever is sooner."
"the agency agreed to recognize the fact that L-2 spouses are authorized to work incident to status and do not even need an EAD card. This change requires Customs and Border Patrol to modify the I-94 records given to L-2 spouses; however, and they have 120 days to do so. Until then, L-2 spouses with pending EADs will be given a 180-day automatic extension of L-2 employment authorization while a timely filed EAD renewal is pending with USCIS."
H-4 Visa Frequently Asked Questions
Our lawyers come across many questions related to H-4 visas, and below you will find answers to the most common questions:
Am I able to travel while my H-4 visa change of status application is pending? 
No, you cannot while your H-4 visa change of status application is pending because USCIS will consider your departure from the country as abandoning the application. If USCIS deems it abandoned, they will no longer process it, and USCIS will deny it.
How long are H-4 visa work permits valid? 
The H-4 visa work permit is valid for the length of time your H-4 status is valid. Be aware that the validity of the H-4 status is dependent on the primary H1B visa holder. When you get to the end of your H-4 EAD validity period, you will only be able to renew it if your spouse has an approved I-140. A provision enacted in November 2021 permits H-4 spouses who filed their I-765 EAD renewal applications promptly and maintained H-4 status past the expiration date of the EAD to qualify for an "automatic extension of their employment authorization for 180 days after the prior EAD expires or until the end of their H-4 status, whichever is sooner."
Find out How to Renew Your Work Permit.
What happens if my spouse loses their job and is out of status? 
There is a 60-day grace period with which you can acquire a new H-1B job. After that, USCIS will consider both you and your spouse out of status, and your EAD will be invalid.
Can I get premium processing for my H-4 visa? 
H4 visas are not eligible for premium processing, but it is an option for H1B holders.
Which one is typically faster, getting an H-4 visa stamp at the U.S. Consulate or getting an H-4 change of status? 
It is typically faster if you can obtain an appointment for H-4 visa stamping at the consulate in your home country because you eliminate the processing lags from USCIS. In addition, with the H-4 visa stamp in your passport, you will be able to enter the United States without necessarily needing an approval notice from USCIS.
What are the average H-4 processing times in 2023?
These vary greatly and also are dependent on the specific service center processing your case, as well as if you're seeking a change of status to H4, an H-4 visa extension, or are inquiring about H-4 visa processing times by U.S. consulates for the actual visa issuance. Right now, processing times are averaging 2-18 months (depending on the service center). On a case-by-case basis, you can have an H-4 visa expedited (at the determination of USCIS). Typically, however, this happens when an Employment Authorization Document (EAD) is associated with the H-4 visa. Some reasons you can request an expedite request are an emergency humanitarian reason, financial or job loss, medical emergency, etc. USCIS will notify you of an approved request within 30 days of submission.
How can I make an H-4 EAD expedite request?
Have your EAD case receipt number, address, and attorney's contact information available when contacting USCIS. You can call them at 1-800-375-5283 or through the online USCIS portal. If outside of the U.S., contact the USCIS office near you. The USCIS officer may request further supporting evidence. After fulfilling the request, you will be able to see status updates and if additional documents are necessary.
What can you do as an H-4 visa holder? 
As an H-4 visa holder, you can get a driver's license, EAD, seek higher education, open bank accounts, and more.
What is the H-4 visa fee in 2021? 
The visa fee for an H-4 visa is $190 – like the fee for other types of H visas.
Are there standard questions that USCIS will ask at my H-4 visa interview? 
This all depends on the nature of your case and which areas the immigration officer will want to cover. Expect the officer to ask for details about your relationship with the main H visa holder. They want to rule out any possibility of an illegitimate relationship to obtain a visa.
Can H-4 visa holders work? 
You can work as long as you have an EAD, otherwise known as an H-4 EAD. However, you cannot file for an H-4 EAD renewal more than 180 days before the original EAD expires.
What is the H-4 EAD processing time?
While this is subject to change based on the service center, you can expect H-4 EAD processing time to be between 2-9 months depending on the service center that's processing the application.
How VisaNation Law Group Can Help
When it comes to immigration law, you want to make sure that you get it right the first time. With so much change happening daily in immigration, it's important to have an expert on your side. Hiring an immigration attorney can help you save time, effort, and money.
VisaNation Law Group's dedicated team of H-1B and H-4 attorneys will handle everything from filing the initial petition to helping you get your EAD. So let VisaNation Law Group worry about the legal work while you focus on your plans in the U.S.
Fill out our contact form and schedule a consultation with our office today!