There are a number of advantages to choosing the EB-2 green card category as your immigration pathway. One of which is the National Interest Waiver (NIW) option which essentially allows you to bypass the job offer requirement and also labor certification process. The labor certification (PERM) is a time-consuming process that involves obtaining a job offer from a U.S. employer, the employer then obtaining a prevailing wage determination, filing the PERM with DOL, waiting for approval and then only with that approval can the employer file an I-140 with USCIS. From there when the I-140 is approved, the immigrant can apply for an adjustment of status if already in the U.S. or go through consular processing to obtain the EB-2 green card. As you can see, the EB-2 NIW self-petition path saves many of those steps as we'll detail in this guide.
EB-2 NIW Self-Petition Process
The process to file an EB-2 National Interest Waiver involves filing form I-140, Immigrant Petition for Alien Workers, along with the supporting evidence. The NIW process allows you to self-petition without needing a sponsoring employer or U.S. job offer (skipping the PERM certification). Below you can see an infographic of the standard EB-2 labor certification process.
EB-2 NIW Eligibility Criteria
You will need to demonstrate that you meet the first two subcategories of the EB-2 visa in addition to providing evidence that your work can be used for national importance. Factors that qualify for that work include improving the U.S. economy, enhancing national security, advancing U.S. healthcare or healthcare research, improving educational and training programs for U.S. workers, supporting cultural or artistic endeavors that benefit the nation, benefiting the environment and contributing to natural resource conservation or promoting international understanding and cooperation. Ultimately, you need to show evidence that the U.S. would benefit "on balance" to waive the job offer criteria for an EB-2. It's important to note that the proposed endeavor does not have to cover the entire geographical area of the U.S. One such example would be creating a high volume of jobs in an economically devastated region.
Evidence that can be submitted in the case along with Form I-140 includes things like a resume, educational degrees, awards, patents, papers, academic research, relevant data, completed projects, etc. Individuals who are petitioning as entrepreneurial applicants, for example, could include things like evidence of contracts, start-up capital or letters of intent.
Immigration officers will take each case on an individual basis and look at a number of factors to determine if the applicant is well-positioned to carry out their plans:
Knowledge and skills
Level of education
Background and record
Achievements in the past
Action plan for moving toward goals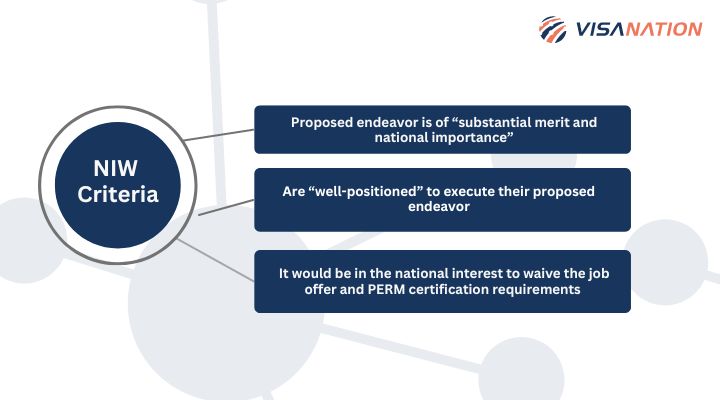 Background on the EB-2 Green Card
The other EB-2 subcategories, apart from the National Interest Waiver, are the Advanced Degree (those who have more than a bachelor's degree, such as a Master's or Doctorate, or its foreign equivalent) and Exceptional Ability (those that have a specialized degree and significant competence in art, business, or science). The U.S. Department of Labor's Foreign Labor Certification Process must approve workers in both of these aforementioned categories.
Learn about EB-2 NIW processing time. 
EB-2 NIW Fees
National Interest Waiver applicants will first need to pay $700 for Form I-140. If that is approved, they will then either pay the filing fee for Form I-485, Application for Adjustment of Status (plus a separate fee for their medical exam and the biometrics fee which is $85). Those living outside of the United States need to apply through consular processing which has a fee of $345.
Apart from those are any fees your immigration attorney charges. Give us a call to learn more and schedule a consultation.
Frequently Asked Questions
Below are some frequently asked questions
Can I apply for EB-2 NIW myself?
Yes, you can self-petition through the national interest waiver. It is highly advised though to retain the help of a qualified professional. Inadequate preparation of your NIW petition and documents is a direct route to getting a Request for Evidence (or RFE) and that can lead to unnecessary additional delays in time and possible fees.
How do I file an EB-2 NIW petition?
See the section above outlining the steps.
What are the chances of EB-2 NIW approval?
The EB-2 has a success rate of about 86% based on the total number of NIW petitions they received in the first quarter of FY2023 and approved.
What are the benefits of EB-2 NIW approval?
One of the biggest benefits is the faster approval time because you entirely bypass the labor certification process. To learn more it's best to contact an EB-2 NIW attorney.