Individuals who want to travel to the United States on a visa undergo a rigorous process before the U.S. approves them. One of the steps in the process involves attending a visa interview at the U.S. consulate or embassy in the home country. During the interview, the immigration official will review the documents provided with the application and questions to the visa applicant. By the end of the visa interview, the consular officer will either issue the visa or issue a denial. If you receive a section 221g refusal, do not panic because there's still hope for a visa.
The U.S. issues a Section 221g refusal when a visa application is missing the necessary information to approve the visa and/or requires administrative processing. Essentially, the government holds the application until the consulate reviews it more in-depth and determines its eligibility. A 221g refusal is quite a common response from immigration authorities and is typically temporary. However, with the help of an experienced lawyer, an applicant can submit the proper documentation to have the visa approved in the end. This post will explore the best way to handle a 221g denial, common reasons for refusal, and recommended tips to navigate the immigration process.
What is Section 221g of the INA
Section 221g exists in the U.S. Immigration and Nationality Act (INA). Based on the definition, it means "the consular officer determined that the applicant was not eligible for a visa after completing and executing the visa application and any required interview." When you submit a U.S. visa application, a consular officer will issue an approval or refuse it. Suppose your application is missing essential and relevant information for the consular officer to decide. In that case, they can deny it until further administrative processing and additional evidence are collected. The government will notify you that they need more processing after your interview with the consular officer.
What is Administrative Processing?
Administrative processing means clearance or approval is necessary from an agency in Washington, D.C., or a related agency. Typically these are for cases where there is uncertainty about the applicant pertaining to security, crime, the country they come from, being employed in a field on the Technology Alert List, etc.
For example, suppose the applicant is suspected of having ties to criminal organizations or is from a country of concern related to national security. In that case,  the government must start administrative processing before issuing the visa. Another typical example is if the visa applicant works in a field on the Technology Alert List. The U.S. Department of State creates this list. It includes areas where it wants to limit the transfer of technology, goods, and sensitive information to prevent the spread of weapons of mass destruction and certain U.S. technologies. Another common reason the U.S. will issue a 221g refusal is if Petition Information Management Service (PIMS) doesn't have your petition approval listed yet. If USCIS doesn't send the petition approval information to the U.S. Department of State promptly, it can slow the entire approval process.
Learn about H-1B Visa Denial.
If the section 221g denial requests additional documents, these may include things like:
Tax or financial documents
Affidavits of support
Employer information/tax documents
Police certificates
Evidence of relationship for marriage visas
Evidence of job offer
Should the additional processing and evidence demonstrate that you qualify for the visa, the consular officer will approve it. If you are experiencing a hardship related to your immigration case, you should inform your lawyer and the consular office where you submitted your application.
Common Reasons for Refusal
Below are some common reasons the U.S. issues a 221g denial:
Concerns regarding the documentation you provided in the visa application
Photo submitted does not meet the requirements
PIMS doesn't list petition approval
You work in a field that is on the Technology Alert List
Officer wants to verify if the work project you submitted is correct, primarily if you work for a consulting company
Visa officer has concerns related to national security, criminal activity, country of origin, etc. and needs to conduct a background check
Find out Top Reasons for J-1 Visa Refusal.
Color-Coded 221g Slips
After your case goes through further administrative processing, the consulate officer will issue you a color-coded sip. The slip will have your case number with the following message:
Your application for a nonimmigrant visa has not been refused. At present, your application must be suspended under section 221g of the immigration and nationality Act, as amended (INA), for further review at the Department of State or by another agency. Embassy xxxxxx will resume action on your application after we are informed that this review is completed. Please be advised, however, we do not control the pace or scope of this review. When the process is complete, we will contact you with further instructions or to advise you that your visa is ready for pick-up."
What does 221g pink slip mean?
The U.S. issues the pink slip to a visa applicant when the officer is suspicious of the information on the petition. It may have to do with the qualifications listed, the reason for the visit, or concerns related to the work. For example, immigration officials may ask you the following:
What is your qualification for the job?
How did you find the job?
What are your role and responsibilities?
What is your salary?
If you receive a pink form, your case will require administrative processing.
What does 221g white slip mean?
The U.S. issues a white slip to a visa applicant when it falls under the complex category of section 221(g). This is usually because you did not provide enough or required evidence during your visa interview. Therefore, your case will require additional processing by USCIS based on the documentation and information that USCIS receives.
What does 221g blue slip mean?
The consulate issues the blue slip to a visa applicant when the consulate needs more supporting documentation. Although the blue slip is similar to the white slip in regard to that, you must provide more evidence; however, if you receive the blue slip, it does not mean that your application failed due to the complex category of section 221(g).
What does 221g yellow slip mean?
The U.S. issues the yellow slip to a visa applicant when the consulate needs additional time to review the documents. The USCIS does not explicitly state how much longer your application would take. In most cases, your documents just need more time to be validated by the officials.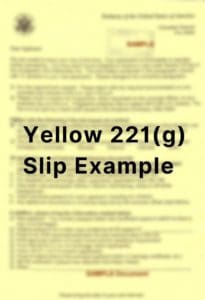 History of 221g Rejections and What to Do
Try not to panic if you receive a refusal notice because you have alternative options. For example, you can always apply for a visa in a different category if you meet those eligibility requirements. If you choose that route, you would not necessarily need to withdraw your pending application. Another option is to apply for the same visa but under a different employer. Thus a rejection is not the complete end of your U.S. immigration journey. You can always apply for a different visa but make sure to have all of your documents ready when submitting your next application.
Learn about Fiance Visa Denial.
Is there a Waiting Period to Reapply for a Visa?
There is no waiting period but be aware that if none of the original conditions have changed, you are likely to receive another denial. For that reason, always discuss these options with your lawyer to avoid creating confusion with immigration officials regarding your application status.
Section 221(g) Frequently Asked Questions
Our immigration lawyers receive a lot of questions about this topic. Below you will find answers to the most common questions about 221(s) section:
What is section 221g?
Suppose the U.S. issued you a section 221g refusal. In that case, the consular officer reviewed your visa application and determined you did not meet the eligibility requirements to receive the visa. This is not a rare response. Depending on what color slip you receive, you are very likely to be given a chance to send additional documents to support your application.
Can I appeal the visa denial?
Under U.S. immigration law, you cannot appeal the denial. However, you can always reapply for the same visa or for another visa that you are eligible for. Even though the immigration authorities would be aware of your previous visa application history, they will primarily judge your new application based on the evidence that you present to them.
My 221g slip asked me to submit my passport, what do I do?
You probably received a white or a blue 221g slip requesting more evidence. As part of that request, the USCIS may have stated that they need your passport or a copy of it. If you want your application to progress, you must adhere to all USCIS requests. Failure to do so may result in the rejection of your application.
Is the visa application fee refundable? 
If you receive a denial on your visa application, you will not be refunded the cost of the application process. Also, if you choose to reapply, you will need to pay the application fee once again, and your previous payments will not be taken into consideration. The U.S. visa application process can be costly to many people and companies, and for this reason, it is crucial to make sure that you are submitting error-free applications with all of the required documentary evidence.
How long does administrative processing take?
221g administrative processing maximum time in 2023 is 60 days from the date of your interview. The U.S. usually resolves most administrative processing claims in that time, based on the documents that you submitted. 
The pandemic may cause further delays. Hold off contacting the consulate or U.S. embassy until 180 days after submitting the requested documents unless you have an emergency. You can always check the status of your case by clicking here. If your case is still pending after 180 days, you can contact the consulate where you had your visa interview or the visa application center.
How do I submit additional documentation they are requesting?
The most common method to submit additional documentation is to do so electronically. However, you can also use a USCIS dropbox location that is indicated on your slip. Nowadays, the majority of documentary transfer is done electronically, and only some specific cases require the use of Dropbox.
Can my 221g refusal be overturned after the fact?
The consular officer can reconsider the visa application later "based on additional information or upon the resolution of administrative processing, and determine that the applicant is eligible." Therefore, the sooner you provide the necessary documentation for your case, the sooner immigration officials can review and decide on it. You have up to a year from the refusal date to submit the documentation by law. However, you should submit it as soon as possible. Again, an immigration professional can best guide you regarding what steps to take.
Is 221g a visa refusal?
If you receive a colored 221g slip, your visa application is technically refused. However, you are still allowed to provide the requested documents to receive approval on your application.
How can I obtain civil or reciprocity documents?
Immigration officials may request you to submit civil documents like birth certificates or police records. You can find Civil Documents for your country* of nationality by selecting your country*/area of authority from the drop-down menu on this page. Then, on the Reciprocity Page, click on the tabs on the left to see the categories of Civil Documents and how to obtain them. You can learn more about collecting civil documents. If the documents are not in English, you must submit them along with a certified translation.
How long does it take to clear 221g?
You have one year from the date the government refused your visa to provide immigration officials with the missing documentation they request. Should you not submit your documents in that one-year time frame, you will need to reapply for the visa and pay the application fee again.
Do I have to disclose that I was refused a visa in subsequent visa applications? 
If you were to apply for any more visas after your 221g refusal, you would absolutely have to disclose your previous refusals. Although having a 221g refusal may negatively affect your future applications, it is not a guarantee that your future applications will also be rejected. Keep in mind that 221g is a temporary refusal until you fulfill the requirements of the USCIS.
What happens after submitting the requested documentation? 
After you submit the information and immigration officials decide you meet the visa eligibility requirements, the U.S. consulate will request that you send your passport. Then, they will stamp it with a U.S. visa. If immigration officials find that you do not meet the requirements, they will return the documents you submitted (except the 797 sent to USCIS) and include a denial letter.
What is causing the processing delays?
It is impossible to know the exact cause of the delay. Still, it could be related to the consular officer having difficulty verifying the information you provided in your application or supporting documents. Additionally, suppose you have a common name listed on a watch list (even unrelated to you). In that case, they could be conducting a background check to ensure you are not a risk to national security. Moreover, if the Petitioner Information Management Service is not correctly updated, that can cause long delays.
Will my petition probably be rejected under section 221(g)?
The probability of your application being completely rejected based solely on section 221(g) are not very high. Keep in mind that this is a temporary rejection. On average most petitions that receive a temporary refusal are approved once the U.S. receives the additional documents.
Can I expedite the process with premium processing? 
No, there is no way to speed up the processing time for a 221g refusal. All applications have undergone the same administrative processing regardless of the region of origin, visa category, or date of application.
Should I retain a lawyer if I get a 221g refusal? 
You should hire an experienced lawyer for any immigration benefit you are trying to receive, whether a green card, visa, change of status, etc. If you've received a 221g refusal, this is especially important because your action after that will determine if you receive the visa or not.